Jump to navigation
Jump to search
This is the first game in the Sengoku Basara series. For other games in the series see the Sengoku Basara category.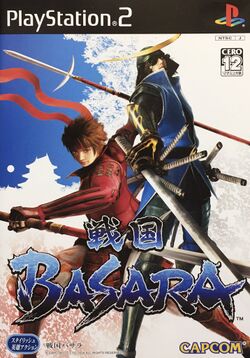 Sengoku Basara (戦国BASARA, Sengoku Basara?) is a PlayStation 2 game released in Japan on July 21, 2005. The game's concept was originally conceived by producer Hiroyuki Kobayashi, whose interest in the Sengoku period inspired him to create an action game based on it. The game involves characters based on historical Japanese warlords obtaining land by fighting through crowds of enemies. Outside of Japan, Sengoku Basara was localized as Devil Kings, and released on October 12 of the same year in America and on February 3, 2006 in Europe. In an attempt to make the game marketable to a western audience, Capcom removed all references to Japan, creating a fantasy land instead. Additionally, difficulties were shifted (with Sengoku Basara's Hard mode being on par with Devil Kings' Normal mode) and the environments were made darker in order to accommodate what Kobayashi called a more "devilish" product.
Despite Sengoku Basara's similarities to Dynasty Warriors, Hiroyuki Kobayashi cited other Capcom games, such as Devil May Cry and Street Fighter II, as gameplay inspirations. The game was followed by several sequels and an anime series, all of them using the original title and setting of Sengoku Basara only. The original game's theme song is "Crosswise" by renowned Japanese performer T.M.Revolution. T.M.Revolution would return to perform opening songs for most of the game's sequels and anime series, sparking a series tradition.
Sengoku Basara primarily follows the story of Masamune Date and Yukimura Sanada, while Devil Kings follows the titular Devil King (Nobunaga Oda in the original version). Other playable characters include Shingen Takeda and Sasuke Sarutobi of the Takeda, Nouhime and Ranmaru Mori of the Oda, and Kenshin Uesugi and Kasuga of the Uesugi. All warlords fight to ensure absolute ownership of Japan for their factions, throwing the nation into a state of total war.
Sengoku Basara was re-released twice on the PlayStation 3 exclusively in Japan. It was first included as a part of the compilation Sengoku Basara HD Collection, with updated HD graphics and trophies, and was later released for download on the PlayStation Network as a PS2 Classic.
Table of Contents