Psychonauts
From StrategyWiki, the video game walkthrough and strategy guide wiki
This is the first game in the Psychonauts series. For other games in the series see the Psychonauts category.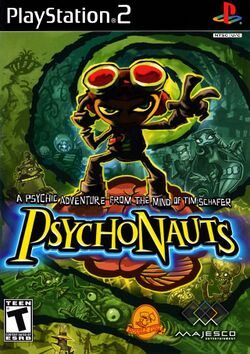 Psychonauts is a platform video game created by Tim Schafer, developed by Double Fine Productions and published by Majesco. The game was released on April 19, 2005 for the Xbox, April 26 for Windows and the following June for PlayStation 2. It has also been released on Steam, as an "Xbox Original" through Xbox Live Marketplace, and as a free playable title on the GameTap basic subscription service.
While the game suffered from poor sales and publisher Majesco suffered financial difficulties relating to Psychonauts and other titles in its catalogue, Psychonauts received strong critic praise and is widely considered to be one of the best platform games.
Psychonauts is based on the exploits of Raz, a young boy gifted with psychic abilities who runs away from the circus to try to sneak into a summer camp for those with similar powers in order to become a "Psychonaut". He finds that there is a sinister plot occurring at the camp that only he can stop from happening. The game is centered on the widely strange and imaginative minds of various characters that Raz enters as a Psychonaut-in-training in order to help them overcome their fears or memories of their past, so as to gain their help and progress in the game. Raz gains use of several psychic abilities during the game that are used for both attacking foes and solving puzzles.
Table of Contents