From StrategyWiki, the video game walkthrough and strategy guide wiki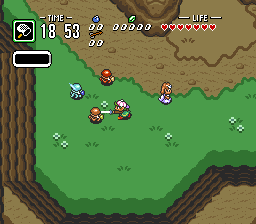 By now there should be a

Piece of Heart in the water in front of you.
Fly to the Witch's Hut, go a screen to the left, fall in the water, and swim up into the waterfall for lots of fairies and a

Piece of Heart. Fly to destination 2 and talk to the Mole. Fly back to the Witch's Hut and go a screen to the left. There are 6 chests in his new cave (600 rupees)! To kill time until the next event you could go digging. Go to the nearest Rental Shop, get a shovel, and go hunting for the next

Piece of Heart.
Once the timer hits



go to the area with the Rental Shop south of the Eastern Palace complex. Zelda will come running from the north. Walking into Zelda will stop both her and the Octoroks, so you can keep on walking into her if you want a breather to plan your strategy. Anyway, kill the Octoroks to save her. She will then follow you, so go to Hyrule Castle and she'll detach, and the old woman there gives you 300 rupees for saving her. You also get 10,000 points!
That's all for this Week. You can kill time by playing the Minigame. When the timer reaches



wait for the end of the cutscene and until the game crashes (makes strange noises) before quitting to ensure all data was stored in S-RAM.