Jump to navigation
Jump to search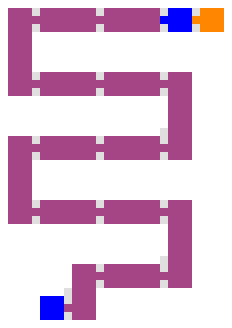 The large cavern is an optional area that is unlocked by going through the secret exit in the Underground Labyrinth in Dracula's Castle. It contains a series of rooms that lead to the boss. Each room can be cleared either by defeating all enemies or after a set amount of time has elapsed. Between every two rooms is a vertical room with no enemies, but they contains chests. The

Globus glyph can be absorbed from Demon Lords.
| | Wooden Chest | | Green Chest |
| --- | --- | --- | --- |
| | Diamond | | Alexandrite |
| | Gold Ore | | Minerva Greaves |
| | High Potion | | Minerva Mail |
| | Onyx | | Minerva Mask |
Boss: Jiang Shi
[
edit
]
Jiang Shi

Attacks

Shoots a slow moving orb that homes in on Shanoa.
Summon smaller versions of itself with the Fidelis Mortus glyph.

Jiang Shi and his summons stay on the ground and hop short distances, so flying with the Volaticus glyph is effective in avoiding them. The Nitesco glyph is an effective attack because Jiang Shi is weak to both flame and light attacks. The orbs can be blocked with shield glyphs.

HP
EXP
Glyph
Attributes

AP

6500
2525
Fidelis Mortus
30
Once defeated, Jiang Shi will be sealed. You can attack the seal to release him and fight him again. This can be repeated indefinitely making this area an effective place to level up. Defeating Jiang Shi also satisfies Irina's third quest, An Unwelcome Guest. The very last room is a warp room that will take you back next to the entrance.