Jump to navigation
Jump to search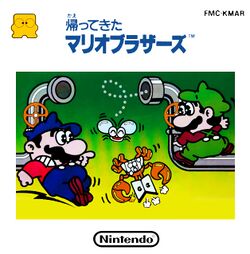 Kaettekita Mario Bros. (帰ってきたマリオブラザーズ, Kaettekita Mario Bros.? lit. Return of Mario Bros.) is an updated remake of the original NES conversion of Mario Bros, developed and published by Nintendo for the Famicom Disk System in 1988. While the original NES conversion, developed in 1983, was quite accurate to the arcade version upon which it was based, many compromises were made in order to fit the game in a limited amount of memory. These compromises included the size of the enemies, the instruction cut-scenes which introduced each enemy, and the icicles which form from the top platform later on in the game. Kaettekita Mario Bros. seeks to restore all of those aspects to as close to the arcade version as possible.
Kaettekita Mario Bros. was one of the few Famicom Disk System games available exclusively from the Famicom Disk Writer and not sold separately. In addition to the graphics improvements, Mario and Luigi gained the ability to change direction slightly in mid-air, and the game took advantage of its disk format by letting you register your name and save the top five high scores. In 1993, this version of the game was stripped of all of it's sponsorship content, and any contest information, and released in Europe simply as Mario Bros. (but with the label of "Classic Series"). This conversion of the game never made it to North America.
In an unusual move for Nintendo, this game was published in a partnership with a sponsor; Nagatanien, a Japanese producer of seasonings for rice and noodle dishes. As such, the game features in-game advertisements for Nagatanien products, as well as Super Mario Bros. 3, which was released one month prior. The game also featured a contest where players can win Super Mario Bros. 3 merchandise. Mario had also previously appeared on Nagatanien Japanese TV commercials.
Main Menu
[
edit
]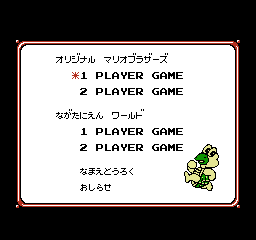 The main menu is broken up into four major selections with the option to play alone, or with a friend for both of the game modes presented.
オリジナル マリオブラザーズ / Original Mario Bros.

This mode plays similarly to the Mario Bros. that was released to arcades. For specific information about how to play, please refer to the walkthrough in that guide. There are some minor changes:

Mario and Luigi can now change direction in mid-air (much like modern remakes).
The graphics and music were improved somewhat (see below).
High scores can now be saved to disk.
Advertisements appeared between levels. While one was for Super Mario Bros. 3, others were for Nagatanien food products (see below).
ながたにえん ワールド / Nagatanien World

This mode is similar to Original Mario Bros., but with two additional features:

After losing all lives and receiving a game over, players will be given the chance to play a Slot Machine Minigame (shown right). Should they get a match, they will be allowed to continue their game without the score and phase counters resetting. However, this area can only be visited once per game.

Nagatanien (永谷園) - 4 extra lives
Three matches- 2 extra lives
Two matches - 1 extra life

After reaching 100,000 points, players are given promotional codes that can be mailed in to be entered in a drawing for Mario playing cards. At 200,000 points, players are given another code for a chance to win a copy of Super Mario Bros. 3. All players who send in codes received a free Mario keyring.
なまえとうろく / Name Registration

Players one and two may register their name, age, and gender. These are used when a high score is broken and to refer to players with honorifics appropriate for their gender.

おしらせ / Notice

In this mode, a Shellcreeper explains the promotional features of Nagatanien World (explained above).
Enemy graphics comparison
[
edit
]
Enemy
Arcade
version
Original
1983 NES
version
Kaettekita
Mario Bros.
Shellcreeper
Sidestepper
Fighterfly
Slipice
Fireball
Nagatanien sponsorship
[
edit
]
The publication of Kaettekita Mario Bros. was sponsored by Nagatanien, a Japanese food company. After selecting the number of players, the game displayed one of three short cut-scene advertisements for Nagatanien products, including one for Super Mario Bros. 3 furikake (dried food sprinkled over rice). Through this sponsorship, prizes were awarded during a limited time contest which ran from November 30, 1988 to May 31, 1989, during which time players could send in postcards with a special code that they obtained if they cleared any stage after achieving 100,000 and 200,000 points. Players could win a set of trading cards, or a chance to win a Super Mario Bros. 3 cartridge, which was released only one month prior in Japan.