Jump to navigation
Jump to search
Neoseeker Related Pages
Links
Super Mario 64 is a video game for the Nintendo 64. Along with Pilotwings 64, it was one of the big launch titles for the new console. As the flagship killer game, it drove initial sales of the Nintendo 64, and has sold over 11 million copies in total.
Super Mario 64 was the first 3D game in the Mario series, and though it was not the first-ever 3D platformer, it helped to define the genre, much as Super Mario Bros. defined the 2D side-scrolling platformer. Super Mario 64 was considered so revolutionary that many consider it to have set the standard for all later 3D platformer games and 3D games in general.
In going from two to three dimensions, Super Mario 64 replaced the linear obstacle courses of traditional platform games with vast worlds in which the player must complete multiple and diverse missions, with an emphasis on exploration. While doing so, it managed to preserve the feel of earlier Mario games, including many of their gameplay elements and characters. It is acclaimed by critics as one of the greatest video games of all time.
Super Mario 64 is downloadable for the Wii and Wii U's Virtual Console service. This release adds compatibility with the GameCube and Classic controllers, Wii U Gamepad and Pro Controllers, and enhances the display by rendering polygons at approximately 4x the Nintendo 64's native 320x240 resolution. This version is able to run in 480p on properly configured setups.
Table of Contents
Castle ground floor
Castle basement floor
Castle upper floors
Secret Levels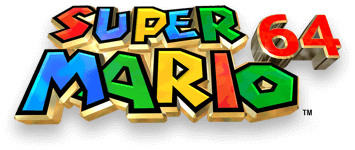 Secret courses and stars
Character courses