Jump to navigation
Jump to search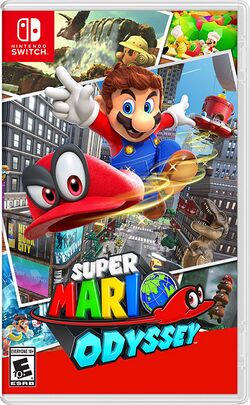 Super Mario Odyssey is a platform game developed and published by Nintendo for the Switch on October 27, 2017. An entry in the Super Mario series, it follows Mario and Cappy, a sentient hat that allows Mario to control other characters and objects, as they journey across various worlds to save Princess Peach from his nemesis Bowser, who plans to forcibly marry her. In contrast to the linear gameplay of prior entries, the game returns to the primarily open-ended, 3D platform gameplay featured in Super Mario 64 and Super Mario Sunshine.
The game was developed by Nintendo's Entertainment Planning & Development division, and began development soon after the release of Super Mario 3D World in 2013. Various ideas were suggested during development, and to incorporate them all, the team decided to employ a sandbox-style of gameplay. Unlike previous installments such as New Super Mario Bros. and Super Mario 3D World, which were aimed at a casual audience, the team designed Super Mario Odyssey to appeal to the series' core fans. The game also features a vocal theme song, "Jump Up, Super Star!", a first for the series.
Super Mario Odyssey received universal acclaim from critics who called it one of the best games in the series, with particular praise towards its inventiveness and originality. It also won numerous awards, including for game of the year. The game sold over 18 million copies by June 2020, making it one of the best-selling Switch games.
Princess Peach is kidnapped by Bowser, who visits many different kingdoms throughout the world, gathering supplies for their wedding. Mario, with the help of Cappy, has to follow them in an airship that resembles a giant hat. In each kingdom, they have to stop and collect power moons to fuel the ship.
Table of Contents
Appendices