Jump to navigation
Jump to search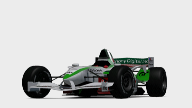 Description
[
edit
]
Due to budget and regulatory restrictions, the current generation of open-wheeled Formula machines can no longer simply pursue pure speed. The Gran Turismo team seeks to fill this gap with our Formula Gran Turismo.
The engine is a 3.5L DOHC V12 with four valves per cylinder and a 60-degree V-bank angle. The redline is over 18.000 rpm and the engine makes an excess of 888 BHP. The block, pistons, and cylinder heads are made of aluminium; the valves are hollow titanium and actuated by pneumatic springs.
The engine bolts are titanium, while the oil pump housing and similar parts are magnesium. The cold air intake and ignition coil shield are carbon, but for parts like the camshaft, crankshaft and timing gears which are subjected to massive forces, steel is used instead. Naturally, dry-sump lubrication is employed for cooling.
The body is an all-carbon monocoque, and the engine, sitting mid-mounted behind the driver, also serves as part of the body.
The car is outfitted with aerodynamic aids like huge wings in the front and rear and various types of deflectors, as well as a giant diffuser in the rear. The underfloor is not flat but features two wind tunnels. The gearbox is a 7-speed semi-automatic, and the brakes employ ventilated carbon discs all around.
As many electrical control systems as possible were used: ABS, TCS, launch control, and even EBD to optimise brake pressure distribution. The resulting kerb weight is around 550kg, and acceleration levels exceed 4 Gs in all directions. This car can run the Suzuka in under 1 minute 30 seconds and the Nurburgring in under 6 minutes. It is the most powerful Formula machine conceivable.
Standard Performance
[
edit
]
| | |
| --- | --- |
| Displacement | --- |
| Max. Power | 936BHP / 17500rpm* |
| Max. Torque | 41kgfm / 15500rpm* |
| Drivetrain | MR |
| Weight | 550kg |
| Power to Weight Ratio | 0.57 kg / BHP* |
| Length | --- |
| Width | --- |
| Height | --- |
Max. BHP, Torque, Power:Weight ratio details obtained after Oil change and Engine Rebuild. No modifications made.
Availability and Price
[
edit
]
| | |
| --- | --- |
| Price | Cr. 4,500,000 ~ 4,999,999 |
| Required Level | lv24 |
| New Car Dealerships | No |
| Used Car Dealerships | Yes |
| Prize Car | Yes, with Level 24 ticket, completing Endurance Series. The only other Lvl24 cars are the Ferrari F1. If you get the Ferrari, restore your game data saved just prior to redeeming the Lvl24 ticket, until you get the FGT. |