Jump to navigation
Jump to search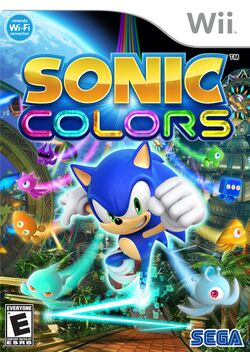 Neoseeker Related Pages
Links
This guide is for the Wii game. For the Nintendo DS game, see Sonic Colors (Nintendo DS).
Sonic Colors (ソニック カラーズ, Sonikku Karāzu?, titled Sonic Colours in some markets) is a platform game and the 13th installment in the Sonic the Hedgehog series. It was first announced on May 26, 2010 in a press release by Sega for Italy, and it included a teaser trailer. The game was released for the Wii and Nintendo DS on November 11, 2010 in Australia, November 12, 2010 in Europe, November 16, 2010 in North America. A remastered version titled Sonic Colors: Ultimate was released on September 7, 2021 for Windows, PlayStation 4, Xbox One, and Nintendo Switch.
After apparently developing a sense of remorse for his past indiscretions, Dr. Eggman opens "Dr. Eggman's Interstellar Amusement Park" up in space, made up of several planet sized attractions. Suspicious, Sonic, accompanied by Tails, check it out and come across Yacker, who comes from a species of aliens known as Wisps. After managing to communicate with him, they learn that the other Wisps have been kidnapped by Dr. Eggman, who plans to harness their "Hyper-Go-On" energy for his nefarious schemes.
Table of Contents