Jump to navigation
Jump to search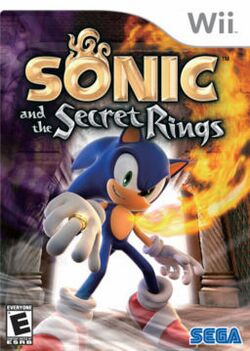 Neoseeker Related Pages
Links
Sonic and the Secret Rings, (formerly known by the working title Sonic Wild Fire), is a video game within the Sonic the Hedgehog series that was released exclusively for the Wii on February 20 2007 in North America, in Europe on March 2 2007, in Australian on March 8, 2007, and in Japan on March 15 2007. This is the first 3D Sonic game to feature Sonic as the only playable character in Story Mode but other characters from the Sonic universe also appear in the game as well but not as themselves.
The main story begins when Sonic is asleep one night when a voice tells him to wake up. Sonic looks at the clock but notices that there is a ring in its place instead. A Genie appears by the name of Shahra and tells him that her world is vanishing by a evil spirit known as the Erazor Djinn. Sonic and Shahra then travel to the land of the Arabian Nights in order to stop him by collecting seven world rings that hold the key to defeating Erazon Djinn.
The game also features a Party Mode that allows you and up to three of your friends to play mini-games. There is also a Special Book option that has tons of good things that can be unlocked by playing the game. This includes artwork, movies, the history of Sonic, music from the game, etc.
Table of Contents