Jump to navigation
Jump to search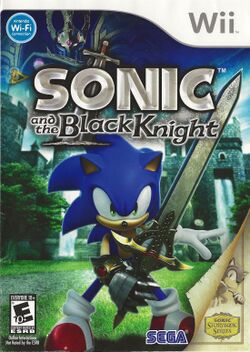 Neoseeker Related Pages
Links
Sonic and the Black Knight (ソニックと暗黒の騎士, Sonikku to Ankoku no Kishi?, lit. "Sonic and the Dark Knight") is a title within the Sonic the Hedgehog series, released exclusively on the Wii as the second entry in the Sonic Storybook series, following on from Sonic and the Secret Rings. The game is directed by Tetsu Katano, who was the lead programmer of the Sonic Adventure titles and Sonic Heroes.
Set in the world of King Arthur, the game combines Sonic's trademark speed with a new swordfighting system, making use of the Wii remote's motion-sensing functionality. It is the only 3D Sonic game to date starring Sonic the Hedgehog in which Dr. Eggman does not appear, as well as the first appearance of Jet the Hawk outside of the Sonic Riders games.
A sorceress named Merlina, granddaughter of the original Merlin, summons Sonic to help free the mystical realm of King Arthur, who has been possessed by an unknown evil that comes from Excalibur's scabbard, and is now ruling the realm as the tyrannical Black Knight. Sonic's speed alone will not end The Black Knight's reign, so he must take up the talking sword, Caliburn, in order to break Arthur's curse and save the kingdom.
Table of Contents