Jump to navigation
Jump to search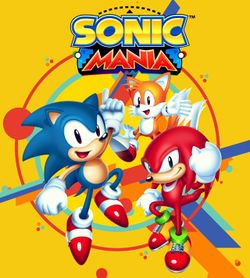 Sonic Mania is a 2D platform game published by Sega worldwide in August 2017 for Nintendo Switch, Xbox One, PlayStation 4, and Windows. Produced in commemoration of the Sonic the Hedgehog series' 25th anniversary, the story follows Sonic the Hedgehog and his companions Tails and Knuckles as they venture to defeat their nemesis Doctor Eggman and his robotic henchmen, the Hard-Boiled Heavies. The game homages the original Sega Genesis Sonic games, featuring speedy, side-scrolling gameplay. It takes place over twelve levels, including eight redesigned stages from past games.
The development team was composed of members known for their work in the Sonic fangame and ROM hacking community. Development began after lead developer Christian "Taxman" Whitehead, who was previously contracted by Sega to develop enhanced mobile ports of Genesis Sonic games, presented a playable prototype to Sonic Team producer Takashi Iizuka. Art, level design, audio, and additional programming was provided by independent studios PagodaWest Games and Headcannon. The team built the game using Whitehead's Retro Engine and aimed for a graphical quality between that of Genesis and Sega Saturn games.
Sonic Mania Plus
[
edit
]
An expanded version of the game, Sonic Mania Plus, was released at retail and as downloadable content for the original version on July 17, 2018. It adds playable characters Mighty the Armadillo and Ray the Flying Squirrel from the 1993 arcade game SegaSonic the Hedgehog, each with unique abilities: Mighty can slam the ground and is immune to spikes when in ball form, while Ray can glide without losing altitude. Plus also adds an "Encore Mode" with remixed levels and a reworked lives mechanic, a pinball bonus stage, and a four-player competition mode. Additionally, an update released alongside Sonic Mania Plus adds more cutscenes and a reworked Metal Sonic battle based on his appearance in Knuckles' Chaotix (1995). The physical version was released with a 32-page art book and a reversible cover in the style of Genesis or Mega Drive boxart covers, depending on the region.
Following the events of Sonic 3 & Knuckles, Sonic and Tails receive a powerful energy reading from Angel Island and board their biplane, the Tornado, to investigate. However, Doctor Eggman sends an elite group of EggRobos to reach the signal before Sonic and Tails. The EggRobos excavate the source of the signal, a magical gemstone called the Phantom Ruby, just as Sonic and Tails arrive. The EggRobos gain new powers from the ruby, becoming the Hard Boiled Heavies, and send Sonic, Tails, and the island's guardian, Knuckles, through places they have previously visited where they pursue Eggman to prevent him from using the ruby's power for evil, clashing with him and the Heavies along the way.
Table of Contents