Jump to navigation
Jump to search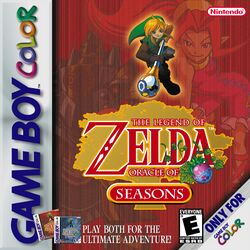 Neoseeker Related Pages
Links
Independent wikis with more information:
The Legend of Zelda: Oracle of Seasons is a game from Nintendo's famous The Legend of Zelda series. It is the only one in the series to be released simultaneously with another title, Oracle of Ages. It is also the only time two Zelda titles can interact with each other. This feature allows many hidden items, locations, antagonists, and secrets to be revealed, and causes the plots of both games to merge, continuing to a double ending.
Oracle of Seasons was released on February 27, 2001 in Japan, May 14, 2001 in North America, and October 5, 2001 in Europe for the Nintendo Game Boy Color.
Oracle of Seasons is set in the land of Holodrum, a vast place filled with both people and monsters. Holodrum houses relatively peaceful places like Horon Village, to unfriendly environments such as the Moblin's Keep, and even the mysterious Lost Woods. Along with Holodrum, a strange underworld known as Subrosia exists below. Link must traverse through both lands to rescue Din from General Onox's grip.
The key feature of Oracle of Seasons is the power to alter the seasons. Link's quest brings him to obtain the mythical Rod of Seasons, which can control spring, summer, fall, and winter, altering the game environments and allowing progress to increasingly harder dungeons.
Table of Contents

Walkthrough
Linked Game:

Sidequests

Appendices