Jump to navigation
Jump to search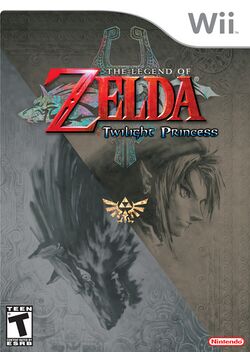 The Legend of Zelda: Twilight Princess (ゼルダの伝説 トワイライトプリンセス, Zeruda no Densetsu Towairaito Purinsesu?) is an action-adventure game developed by Nintendo Entertainment Analysis and Development, and published by Nintendo for the Wii and GameCube video game consoles. It is the thirteenth installment in The Legend of Zelda series. Originally planned for release in November 2005, Twilight Princess was delayed by Nintendo to allow its developers to refine the game and add more content. The Wii version was released alongside the Wii console on November 19, 2006 in North America, and in December 2006 in Japan, Europe, and Australia. This made Twilight Princess the first Zelda game released at the launch of a Nintendo console. The GameCube version was released in December 2006, and was the last Nintendo-published game for the console. During early development, Nintendo referred to Twilight Princess as The Wind Waker 2. The title changed as development progressed, with the name Twilight Princess officially announced at E3 2005. A remake for the Wii U, titled The Legend of Zelda: Twilight Princess HD, was released in the U.S and Europe on March 4, 2016 in both physical and digital formats
(via the Nintendo eShop).
The story focuses on series protagonist Link, who tries to prevent Hyrule from being engulfed by a corrupted parallel dimension known as the Twilight Realm. To do so, he takes the forms of both a human and a wolf, and is assisted by a mysterious creature named Midna. The game takes place hundreds of years after Ocarina of Time and Majora's Mask.
Twilight Princess is the first game in The Legend of Zelda series to receive a T rating from the ESRB, who cited fantasy violence and animated blood as reasons for the more mature rating. The game was hailed by many major publications as the greatest Zelda game ever made, and won numerous Game of the Year awards.
Artwork
[
edit
]
Table of Contents
Lists and Maps
Appendices