Jump to navigation
Jump to search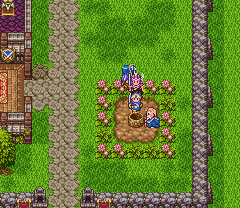 Medals are a bonus feature added in the SNES and GBC versions of the game that provide players with a way to get unique equipment. Medals in the GBC version are called Tiny Medals whereas in the SNES version they are called Small Medals. These medals are not to be confused with the GBC exclusive Monster Medals.
The Medal King Mansion is found in a cave underneath Aliahan. If you inspect the well in the southeast corner you can climb down a rope to find it.
The cost of the rewards are cumulative. For example, if you give 5

Tiny (GBC)

/ Small (SNES) medals to Medal King and receive the Spiny Whip, then you only need 5 more to get the Garter Belt. The names here are listed twice to denote the GBC/SNES version differences.
Reward
Total number of
Small Medals required
Spiny
Spiny Whip
5
Garter
Garter Belt
10
Blade
Bladerang
20
Strength
Strength Ring
30
INTSpecs
Smart Glasses
35
Ninja
Ninja Suit
50
Justice
Justice Abacus
60
AGLScarf
Gale Bandana
70
Dragon
Dragon Claw
80
Vivify
Vivify Staff
90
Sacred
Sacred Bikini
95
Gold Pass
100
Medal locations
[
edit
]
You only need 100 Tiny/Small Medals to get all of the rewards, but there are over 110 Medals in the Game. So it doesn't matter if you miss a few.
| Number | Location |
| --- | --- |
| 1 | Aliahan Castle (Barrel) |
| 2 | Aliahan (Cupboard, Night) |
| 3 | Reeve (Under the Stone) |
| 4 | Tower of Najima (Chest) |
| 5 | Aliahan Castle (Cupboard, Thief Key) |
| 6 | Small Shrine (Pot, Thief Key) |
| 7 | Romaly (Pot) |
| 8 | Romaly (Ground) |
| 9 | Romaly Castle (Bush) |
| 10 | Kazave (Grave) |
| 11 | Elves Village (Grass) |
| 12 | Cave of Dreams (Chest) |
| 13 | 2. Pachisi Track (Ground) |
| 14 | 2. Pachisi Track (Pot, Track) |
| 15 | 2. Pachisi Track (Chest, Goal) |
| 16 | Desert Shrine (Pot) |
| 17 | Isis (Tombstone) |
| 18 | Isis (Pot) |
| 19 | Pyramid (Chest) |
| 20 | Pyramid (Chest, Magic Key) |
| 21 | Pyramid (Ground, Magic Key) |
| 22 | Romaly Castle (Bush, Magic Key) |
| 23 | Ashalam (Blue Tile, Magic Key) |
| 24 | Isis Castle (Chest, Magic Key) |
| 25 | Portoga (Bush) |
| 26 | Portoga (Pot) |
| 27 | Baharata (Cupboard) |
| 28 | Baharata Cave (Chest) |
| 29 | Dharma (Statue, Magic Key) |
| 30 | Tower of Garuna (Chest) |
| 31 | Tedanki (Poison Marsh) |
| 32 | Lancel (Ground) |
| 33 | Castle Edinbear (Flowerbeet) |
| 34 | Castle Edinbear (Ground) |
| 35 | Shoal Shrine (Tile, Thirsty Pitcher) |
| 36 | Romaly (Water Bassin, Final Key) |
| 37 | Romaly Barrier (Pond, Final Key) |
| Number | Location |
| --- | --- |
| 38 | Travel Door Shrine (Tile) |
| 39 | Olivia Promontory (Ground, Final Key) |
| 40 | Traveler's Inn (Cupboard, Thief Key) |
| 41 | Zipangu (Pot) |
| 42 | Zipangu (Pot) |
| 43 | Muor (Ground, Final Key) |
| 44 | Muor (Pot, Thief Key) |
| 45 | Sioux (Ground) |
| 46 | Sioux (Pot) |
| 47 | Tower of Arb (Chest) |
| 48 | Tower of Arb (Chest) |
| 49 | Pirates Base (Barrel) |
| 50 | Pirates Base (Ground, Final Key) |
| 51 | Lancel (Chest, Final Key) |
| 52 | Gaia Navel (Chest) |
| 53 | Gaia Navel (Chest) |
| 54 | Samanosa (Tombstone) |
| 55 | Samanosa Castle (Ground) |
| 56 | Samanosa Castle (Barrel) |
| 57 | Samanosa Castle (Pot, Final Key) |
| 58 | Samanosa Cave (Chest) |
| 59 | Samanosa Cave (Chest) |
| 60 | Greenlad (Cupboard) |
| 61 | Phantom Ship (Barrel, Sailor's Bone) |
| 62 | Phantom Ship (Barrel, Sailor's Bone) |
| 63 | Hobbit Shrine (Ground) |
| 64 | Shrine Jail (Pot, Final Key) |
| 65 | 3. Pachisi Track (Grass) |
| 66 | 3. Pachisi Track (Grass) |
| 67 | 3. Pachisi Track (Pot, Track) |
| 68 | Luzami (Hole) |
| 69 | New Town (Chest, Phase 4) |
| 70 | Necrogond Cave (Chest) |
| 71 | Necrogond Cave (Ground) |
| 72 | Necrogond Shrine (Tomb) |
| 73 | New Town (Cupboard, Phase 5) |
| 74 | Liamland (Ground) |
| Number | Location |
| --- | --- |
| 75 | Baramos Castle (Ground, Final Key) |
| 76 | Baramos Castle (Ground) |
| 77 | Alefgard Port (Ground) |
| 78 | Ludatorm (Ground) |
| 79 | Ludatorm Castle (Barrel) |
| 80 | Garin's House (Cupboard) |
| 81 | North Cave (Chest) |
| 82 | Domdora (Pot) |
| 83 | Domdora (Ground) |
| 84 | Domdora (Ground) |
| 85 | Mercado (Ground) |
| 86 | Spiritual Shrine (Ground) |
| 87 | West Cave (Chest) |
| 88 | Kol (Bag) |
| 89 | Kol (Water) |
| 90 | Kol (Stairs) |
| 91 | 4. Pachisi Track (Flower) |
| 92 | 4. Pachisi Track (Cupboard, Track) |
| 93 | 4. Pachisi Track (Pot, Track) |
| 94 | Rubiss Tower (Chest) |
| 95 | Rubiss Tower (Chest) |
| 96 | Marsh Cave (Ground) |
| 97 | Rimuldar (Pot) |
| 98 | Rimuldar (Ground) |
| 99 | Rimuldar (Cupboard) |
| 100 | Shrine of Honor (Ground) |
| 101 | Castle of Dragon Queen (Ground) |
| 102 | Zoma's Castle (Electrofield) |
| 103 | Zoma's Castle (Ground) |
| 104 | Zoma's Castle (Chest) |
| 105 | Sky World (Chest) |
| 106 | Sky World (Chest) |
| 107 | Sky World (Pot) |
| 108 | Sky World (Pot) |
| 109 | Sky World (Chest) |
| 110 | Sky World (Chest) |