Jump to navigation
Jump to search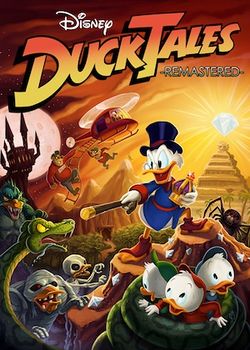 Neoseeker Related Pages
Links
This guide is for the 2013 remake. For the original NES game, see DuckTales.
DuckTales: Remastered is an adventure platform game developed by WayForward Technologies and published by Capcom in 2013 on multiple consoles, including the PlayStation 3, Wii U, and Xbox 360. The game is a high-definition remake of DuckTales, a game released on the NES in 1989. Capcom first announced the game at PAX East 2013 on March 22, 2013. While full development of the game started in late 2011, Disney and Capcom were previously discussing the possibility of a remake from 2010.
DuckTales: Remastered features a 2.5D presentation, with 2D hand-drawn character sprites and 3D modeled levels. Backgrounds and layouts were created by Disney Television artists Mike Peraza and Rick Evans. The game features full voice acting for the characters, including the surviving members of the original animated series cast, such as Alan Young reprising his role as Scrooge McDuck and June Foray as Magica De Spell. Remastered also features music either taken directly from the original game or revised to improve it with additional, high quality sounds (such as the theme song).
The Beagle Boys attempt another raid on Scrooge's money bin, with Baggy, Burger, and Bouncer Beagle capturing Huey, Dewey and Louie. After Scrooge rescues them, he finds Big Time Beagle in his office with a painting in his hands. With the help of Duckworth, Big Time is defeated and retreats. The painting reveals the locations of five treasures, and Scrooge wastes no time to set out for them.
Table of Contents