Jump to navigation
Jump to search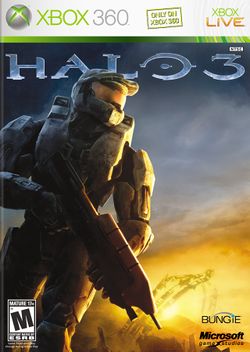 Neoseeker Related Pages
Links
Halo 3 is a FPS developed by Bungie and published by Microsoft Game Studios exclusively for the Xbox 360. It was simultaneously launched on September 25, 2007 in Australia, Brazil, India, New Zealand, North America, and Singapore. On September 26 and September 27, it was released in Europe and Japan, respectively.
The game is the third title in the Halo series and concludes the story arc that began in Halo: Combat Evolved and continued in Halo 2. It features metrics from both Halo: Combat Evolved and Halo 2, namely, the return of the pistol and the assault rifle.
Halo 3 has been released in three editions: normal, limited, and legendary edition. All editions have the Game Disk but limited and legendary edition has a bonus disk (Legendary has two) and the Legendary edition has a MJOLNIR VI Helmet with a stand to put it on. Limited has a bestiary book, but legendary's is on a DVD.
The game features vehicles, weapons, and gameplay not present in previous titles of the series, as well as the addition of saved gameplay films, file sharing, and the Forge map editor; a utility which allows the player to perform modifications to multiplayer levels.
After the events of Halo 2, Master Chief is found by Sgt. Major Johnson and the Arbiter after entering the Earth's atmosphere and crashing to the ground within Africa. Covenant forces, led by the High Prophet of Truth, are sent to Earth in search of information that reveal to them the location of the Ark (a device capable of firing every Halo ring in the galaxy).
Game Success
[
edit
]
Halo 3 has been one of the most successful games in the Halo series. In 2007, Halo 3 won the "VGX Award for Most Addictive Video Game" and the "VGX Award for Best Multiplayer Game". Since the release of the game, Halo 3 has sold over 14.5 million copies which ranks as 3rd most copies sold for an individual game on the Xbox 360 platform. On the release date, Halo 3 pulled in $170 million of sales just within the first 24 hours. That was the all-time record in release date sales at the time.
Halo 3 also set records for the online gaming network on the Xbox 360 platform. Halo 3 had the Xbox live record for the most unique users to play online on a single game. Halo 3 held this record for over two years which set another record at the time which was longest duration of having the most unique users on Xbox live. Even with the game being released in 2007, there is still a significant amount of Xbox live users for Halo 3 today. Microsoft announced in 2013 that all Xbox live gold members would get a free Halo 3 game download. Since the release of the game, Halo 3 has made Microsoft $600 million.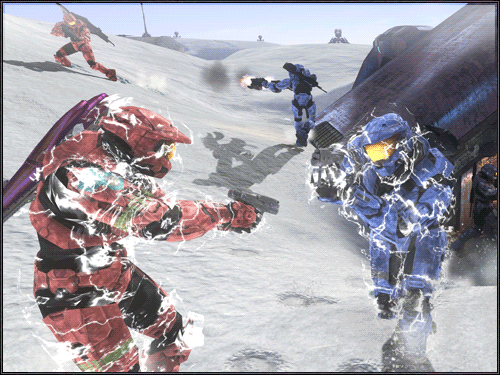 Table of Contents
Spin-offs:
Compilation(s):