Jump to navigation
Jump to search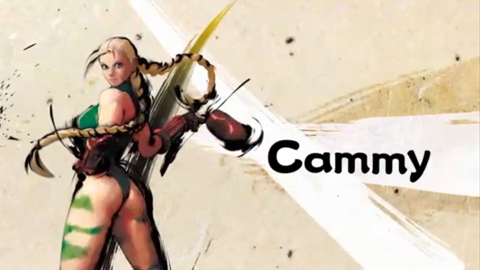 Click here for more information about Cammy's other fighting game appearances.
Cammy was created as a female clone of M. Bison to be a soulless assassin for him, but after becoming aware of herself she left Shadaloo. The escape was difficult and she made it out of the organization's base only to fall unconscious. She awoke with amnesia at the doorstep of the British paramilitary government organization, Delta Red. With elite fighting abilities implanted by the Shadaloo flowing through her, Cammy was welcomed into the Delta Red team. Through her work with the government organization, she encountered Bison in the second World Warrior tournament and her memories returned. After the defeat of Bison and Shadaloo, Cammy returned to her Delta Red teammates ready to live her own life.
Now rumor is Shadaloo is back and Bison along with them. Cammy is ordered by Delta Red to join the tournament and use her superior close range combat to climb the ranks and investigate the crime syndicate's activity.

| Marks | Move Name | Commands | Notes |
| --- | --- | --- | --- |
| | Hooligan Suplex | ( +) + | |
| | Frankensteiner | + + | |
| | Flying Neck Breaker | ( +) + | |
| ★ | Cannon Spike | + | |
| ★ | Spiral Arrow | + | |
| ★ | Hooligan Combination | + | |
| | Razor's Edge Slicer | no input | After Hooligan Combination |
| | Fatal Leg Twister | + | After Hooligan Combination; throw |
| | Cross Scissors Pressure | + in air | After Hooligan Combination; throw |
| ★ | Cannon Strike | + | In the air |
| ★ ★ | Quick Spin Knuckle | + | |
| | Focus Attack | + | |
| | Spin Drive Smasher | + | |
| | Gyro Drive Smasher | + | |

| Marks | Move Name | Commands | Notes |
| --- | --- | --- | --- |
| | Hooligan Suplex | ( +) + | |
| | Frankensteiner | + + | |
| | Flying Neck Breaker | ( +) + | |
| ★ | Cannon Spike | + | |
| ★ | Spiral Arrow | + | |
| ★ | Hooligan Combination | + | |
| | Razor's Edge Slicer | no input | After Hooligan Combination |
| | Fatal Leg Twister | + | After Hooligan Combination; throw |
| | Cross Scissors Pressure | + in air | After Hooligan Combination; throw |
| ★ | Cannon Strike | + | In the air |
| ★ ★ | Quick Spin Knuckle | + | |
| | Focus Attack | + | |
| | Spin Drive Smasher | + | |
| | Gyro Drive Smasher | + | |
| | CQC (Cammy Quick Combination) | + | |