Jump to navigation
Jump to search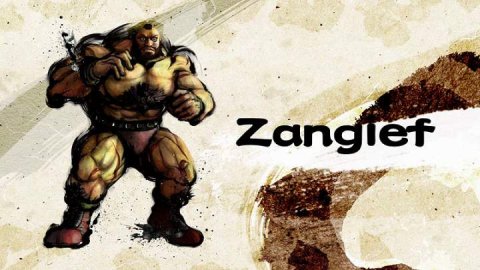 Click here for more information about Zangief's other fighting game appearances.
A man who trains with polar bears in Siberia should not be taken lightly. Zangief is the greatest professional wrestler the Soviet Union has ever produced and his ferociously muscular body is packed with blazing passion and love for his home country. He is a patriot to his very core and is disgusted at acts of selfish evil.
Zangief is ready to prove he is the strongest fighter in the world and fights for his land and the little ones who look up to him. Using close range combat, Zangief will gladly take a punch in order to grab his opponent. He is called the Red Cyclone for a reason and his famous Spinning Piledriver is to be feared.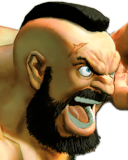 | Marks | Move Name | Commands | Notes |
| --- | --- | --- | --- |
| | Body Slam | ( +) + | |
| | Brain Buster | + + | |
| | Flying Body Attack | + | |
| | Double Knee Drop | + | |
| | Headbutt | + / | |
| | Long Kick | + | |
| ★ | Banishing Flat | + | |
| ★ | Spinning Piledriver | + | |
| | Double Lariat | | |
| | Quick Double Lariat | | |
| ★ | Flying Power Bomb | + | |
| ★ | Atomic Suplex | + | Must be used at close range |
| | Focus Attack | + | |
| | Final Atomic Buster | + | |
| | Ultimate Atomic Buster | + | |

| Marks | Move Name | Commands | Notes |
| --- | --- | --- | --- |
| | Body Slam | ( +) + | |
| | Brain Buster | + + | |
| | Flying Body Attack | + | |
| | Double Knee Drop | + | |
| | Headbutt | + / | |
| | Long Kick | + | |
| ★ | Banishing Flat | + | |
| ★ | Spinning Piledriver | + | |
| | Double Lariat | | |
| | Quick Double Lariat | | |
| ★ | Flying Power Bomb | + | |
| ★ | Atomic Suplex | + | Must be used at close range |
| | Focus Attack | + | |
| | Final Atomic Buster | + | |
| | Ultimate Atomic Buster | + | |
| | Siberian Blizzard | + | |