Jump to navigation
Jump to search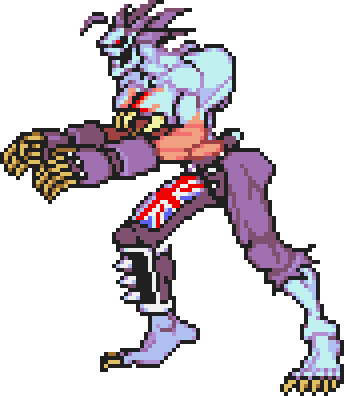 ORIGIN/TYPE: Australia/Ghoul
"You should thank me. That broken face is very becoming on you."
Raptor (known as Zabel Zarock in Japan) was a charismatic young rock star who was an expert guitarist and was known as the "God of Metal". He was unknown before the release of his first album, Oral Dead. Though not a success initially, enough interest was cultivated until his second album was released. It sold 200,000 copies in a month, and reached one million in three months, becoming the next sensation in the metal scene. He instantly became famous throughout Australia.
Raptor killed himself and over a hundred fans in what would be his final live performance.
Because of his notoriety as a power-hungry criminal, he was noticed by the Emperor Ozomu, who baptised Raptor's soul in darkness and thus resurrected him as a zombie and renamed him Lord Raptor. Ozomu then used Raptor's bloodlust to his advantage, enlisting him into his services with the promise of more power. Although Raptor agreed, his true plans were to kill Ozomu himself and rule as Emperor. Ozomu knows this and has sent a small one eyed frog-like creature named Le Malta to surveillance Raptor though he also doubles as Raptor's ally. But when the Emperor and his castle disappeared, Raptor was puzzled. When he arrived at the location where Ozomu's castle used to stand, he found the entrance to the Majigen. This time, he intended to kill the creator of the Majigen and take his role.
A few days after Raptor's death, a strange leather-covered book was found in his house. The book was called "A Chapter of Tolagido" and was written in what seemed to be ancient Hebrew. The book explained the existence of another world called "Makai". The words in the book resembled the lyrics to his hit songs, and in a topic titled "A curse to give sacrifices to the king of Makai", the lyrics to Raptor's song "Sacrifice" were found. This song was the last played during the concert where Raptor and his crowd died.
With further research, it was discovered that the preparation for the curse took a long time. Since the first album was released, Raptor had already started to brainwash his potential victims. His apparent aim was to start the curse with his music and obtain sacrifices.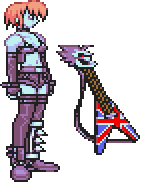 When hit by Anakaris' Pharaoh's Curse, he becomes an electric guitar, decorated with the Union Jack. When attacked by Demitri's Midnight Bliss, he becomes a gothic punk rocker chick with blue skin. An unusual characteristic of Raptor is that as a girl, she takes out a gun and points it at Demitri's head, but doesn't seem to get the chance to fire it off in time. Raptor is one of the only characters in any of Capcom's games to be able to move while crouching. A running gag in the game is Raptor's love for Hsien-Ko. This often causes his attacks against her to yield humorous scenes. Raptor can also be seen with literal Hearts in his eye in Hsien-Ko's level in Super Puzzle fighters.
LeMarta
[
edit
]

Only a few species of the Makai animal world possess the ability to cross the boundary between the human and demon world, and LeMarta is one of them. Ozomu provides Lord Raptor with LeMarta as a partner, but LeMarta's true secret purpose is to spy on Lord Raptor and report his every move to Ozomu. But even after Ozomu disappears, LeMarta stays by Raptor's side. He even becomes the guitar which Raptor plays during one of his victory animations, as well as assisting in a few of Raptor's attacks. In the EX Move "Hell Dunk", Raptor pushes the opponent into LeMarta's mouth, who transforms the opponent into a ball. Then LeMarta becomes a basketball hoop for Raptor to dunk the opponent through before he or she transforms back into their original shape. While Raptor has fallen in love with Hsien-Ko, but it is B.B. Hood that LeMarta takes a fancy too. He is particularly attracted to her dark side. Hearts fly out of his eyes whenever he sees her before a fight begins.
Discography
[
edit
]
Oral Dead

His first album which includes his hit song, "Oral Dead".

Punishment

His second album. A million seller album that was sold by word of mouth.

Noise of Heaven

The third album, which was more religious and ceremonial. It contained the song "Soul Beats". It's theme is the rebirth of souls. It also contains the song "Black Justice".

Tripper

His first memorial live album which took place in the Southern Cross Hall and gathered 60,000 people. 400 people went unconscious, and 18 people had heart attacks (two of which died). After this had occurred, entering the live shows became harder and the police began to monitor his life.

Fangorra

His compilation album which contains un-released songs. There was a rumour that the album contained a track zero, so the record companies called back the CD. Before the first track, there were 16 seconds of silence. Many people claimed that a devil's curse would play during that time, although there was no music actually recorded during this silence. After the CDs were called back, the first press became premium items.

Devil

His final album which was released after his death. Contains the song "Sacrifice", which was played when Raptor committed murder-suicide.

| Name | | Input |
| --- | --- | --- |
| Murder Beat | or + | or |
| Deadly Catapult | or + | or |
| Air Catastrophe | or + | or |
| Air Dash | | or |
| Death Hurricane | + | |
| Skull Javelin | + | , on downed opponent |
| Skull Punish | + | or , close |
| Hell's Gate | + | |
| Evil Scream | + | |
| Death Voltage | + | (GC in air) |

| Name | | Input |
| --- | --- | --- |
| Murder Beat | or + | or |
| Deadly Catapult | or + | or |
| Air Catastrophe | or + | or |
| Air Dash | | or |
| Death Hurricane | + | |
| Skull Sting | + | |
| Skull Punish | + | , close |
| Hell's Gate | + | |
| Evil Scream | + | |
| Death Voltage | + | |
| Hell Dunk | + | |

| Name | | Input |
| --- | --- | --- |
| Crouch Walk | | hold or |
| Air Dash | | or |
| Murder Beat | or + | or |
| Deadly Catapult | or + | or |
| Air Catastrophe | or + | or |
| Alternate Attacks | + | or |
| Aerial Punches | + | |
| Death Drill | + | |
| Skull Javelin | + | or while opponent is downed |
| Death Hurricane | + | |
| Skull Sting | + | |
| Skull Punish | + | or , close |
| Hell's Gate | + | |
| Death Phrase | + | while blocking |
| Evil Scream | + | |
| Death Voltage | + | |
| Hell Dunk | + | |
| Saishuu Keitai: Ultimate Undead | | + of the same strength |
| __Ultimate Revenge | + | while blocking |

| Name | | Input |
| --- | --- | --- |
| Crouch Walk | | hold or |
| Murder Beat | or + | or |
| Deadly Catapult | or + | or |
| Air Catastrophe | or + | or |
| Air Dash | | or |
| Alternate Attacks | + | or |
| Aerial Punches | + | |
| Death Drill | + | |
| Death Hurricane | + | |
| Skull Sting | + | |
| Skull Punish | + | or , close |
| Hell's Gate | + | |
| Death Phrase | + | while blocking |
| Evil Scream | + | |
| Death Voltage | + | |
| Hell Dunk | + | |
| Saishuu Keitai: Ultimate Undead | + | |
| __Ultimate Revenge | + | while blocking |
| Dark Force | | + of the same strength |