Jump to navigation
Jump to search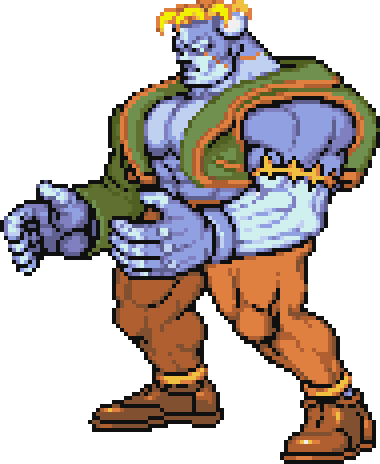 ORIGIN/TYPE: Germany/Frankenstein-creature
"You are no match for my great strength!"
Victor Von Gerdenheim was the creation of a mad scientist by the same name. However, Professor Von Gerdenheim passed away shortly after bringing Victor to life. Victor believed that, if he proved himself the strongest in the world, the Professor would accept him. Accordingly, Victor left the castle to fight numerous Darkstalkers. When he finally came back to the castle, Victor found the Professor dead. He was welcomed home by his "sister" Emily, a fellow creation of the Professor's.
The two lived happily for many years until, one night, Emily malfunctioned. Victor believed that, by collecting enough souls, he could revive Emily; accordingly, Victor entered the Majigen. In the end, he sacrificed his own life to revive Emily.
Every one of Professor Gerdenheim's research pursuits encountered some kind of humane or ethical problems. He was also marked as a dangerous man to the council of Medical Academic Research. His research on revival of dead cells was a completely new idea in the field, but was nothing more than a nuisance to those who lost their rights due to it. Although he was known as a "Mad Professor", people started spreading false rumours about him. Rumours that he was an inhumane, publicity chaser and even a drug addict. Because of these rumours, the public and the council were filled with suspicion and contempt. Due to the power of the council, his chances to speak in public were taken away as well. Soon, he was forgotten by society.
Regardless, the Professor continued his research, but not for the prospect of fame. It was almost better that the public ignored him for his research. He moved his operations to a country town and spent his days in the underground laboratory. The creation of life was his ultimate inner-goal. According to his research, if he obtained the right materials and enough electrical power, he believed that he would be able to prove the validity his research. He used any measure to obtain the materials he needed. After moving into the laboratory, none saw him for over 20 years. It is believed that this isolation drove his mind into further madness, his sheer force of will alone made him march on and create miracles.
For most of his later days in life, he spent his time experimenting on Victor. It was very difficult to read his research material when he was insane and many mysterious signs were used in his writings. This is the only legacy of the Professor who researched the creation of life that lies "Beyond the darkness".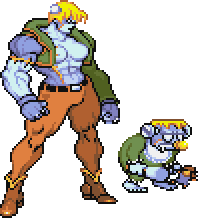 When hit by Anakaris' Pharaoh's Curse, he becomes a small robotic doll. It's difficult to see, but the tiny Victor is holding a little rag doll which represents Emily. When attacked by Demitri's Midnight Bliss, he becomes a rather muscular Frankenstein girl. Both Victor and his father are named after Victor Frankenstein, the protagonist of the 1818 novel Frankenstein, written by Mary Wollstonecraft Shelley. Victor's body (and clothing) is apparently amorphous, as several of his body parts stretch, grow, or wobble unnaturally as he fights. Normally these are just whatever appendage he is using at the time cartoonishly increasing in size to accent his attack (such as his fist doubling in size when he punches). When Strong/Fierce Punch or Forward/Roundhouse Kick are held, his normal attacks become electricity-based and do block damage. Comically, Victor will also use his rear end to attack for his close standing kicks, and that will also grow to cartoonish proportions when he strikes with it as well. For example: one of his super arts makes him squeeze his opponent between his butt-cheeks
Background Information
[
edit
]
When was Emily created?
[
edit
]

Before the Prof. went into his real experiment, he did many tests on human bodies. Emily was made as a prototype that couldn't generate electricity by itself and could only be activated once. He failed many times over and over until he finally succeeded in animating Emily. But she was only a doll that moved by flowing electricity into her constantly. Her limbs could move temporarily and would only last for about 30 seconds. But this was still one step closer to his goal of creating new life. He began to design Victor who could generate electricity by itself and increased the size of the body to do this. It is still unknown why Emily can move like Victor after the experiment. Most likely, when Victor was created, a part of the large amount of electricity used to animate Victor flowed into Emily as well. She was able to store a vast amount of electricity in her due to an accident.
How to create an artificial body
[
edit
]
Victor is the ultimate masterpiece that Prof. Gerdenheim left. These are the records left by the doctor to create Victor.
Collecting human bodies for materials. The bodies are to be fresh as possible. To store vast amounts of electricity, the body is enlarged by combining human parts.
Sewing up the bone, muscles and nerves.
Transplanting a electrostatic organic material into the nerve and muscles. To re-animate the dead cells, this step cannot be missed. The manufacturing process of this material and its raw material is top secret.
To soak the material in a special revival liquid and to wait for 200 hours at a temperature of -18 degrees or less. This process causes the material to not rot.
To connect an electrode and a pacemaker with the involuntary muscle of the heart. This is to make the heart infinitely move.
Circulating charged liquid (blood). This liquid was created by the doctor just like the revival liquid. It takes several years to create enough liquid for one human body.
To stimulate it with a high voltage current. This is the problem that the Prof. ran into in the end. In one mili-second, 100 thousand KW must be sent into 20mm or more of a surface. Because he couldn't use a large scale facility, he had to rely on lighting for his source.
Professor Gerdenheim's writing
[
edit
]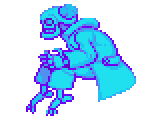 At present, it is very hard to obtain these books.
Researching the reactivation of electromagnetic waves and cells
The new boundaries between life and death
Arkane's theorem (About the research that Prof. Gerdenheim put forward about spiritual energy)
Under special conditions, the principle's of the brain wave phenomenon that appears
The future of studying revival
The uncut reports of Lugendreih 1, 2(Articles of Prof. Lugendreih who is the head authority on organic cell research)

| Name | | Input |
| --- | --- | --- |
| Jaw Slugger | or + | or |
| __Graviton Knuckle | + | before Jaw Slugger |
| Mega Strangle | or + | or |
| Gyro Crush | + | |
| Giga Burn | + | |
| Giga Buster | + | |
| High Giga Buster | + | |
| Giga Hammer | + | |
| Mega Shock | + | or , close |
| Mega Spike | + | , close |
| Thunder Break | + | or |
| Giga Brute | + | |

| Name | | Input |
| --- | --- | --- |
| Jaw Slugger | or + | or |
| __Graviton Knuckle | + | before Jaw Slugger |
| Mega Strangle | or + | or |
| Mega Throw | or + | or |
| Gyro Crush | + | |
| Giga Burn | + | |
| Giga Buster | + | |
| Giga Hammer | + | |
| Mega Shock | + | or , close |
| Mega Spike | + | or , close |
| Thunder Break | + | |
| Great Geldenheim | + | |

| Name | | Input |
| --- | --- | --- |
| Mega Strangle | or + | |
| Jaw Slugger | or + | |
| __Graviton Knuckle | + | before Mega Strangle or Jaw Slugger |
| Bottom Grip | or + | or |
| Mega Throw | or + | or |
| Minimum Step | + | |
| Double Meteor Knuckle | or + | |
| Dengeki Touki | | Press and hold , , or |
| Victor Finger | + | or while opponent is downed |
| Gyro Crush | + | (move with or ) |
| Mega Stake | + | |
| Giga Burn | + | |
| Mega Forehead | + | |
| Mega Shock | + | , close |
| Mega Spike | + | , close |
| Thunder Break | + | |
| Geldenheim 3 | + | , close |
| Hyoui Genshou: G. Geldenheim S | | + or + (grab with ) |
| Hyoui Genshou: G. Geldenheim L | | + |

| Name | | Input |
| --- | --- | --- |
| Mega Strangle | or + | |
| Jaw Slugger | or + | |
| __Graviton Knuckle | + | before Mega Strangle or Jaw Slugger |
| Bottom Grip | or + | or |
| Mega Throw | or + | or |
| Minimum Step | + | |
| Double Meteor Knuckle | or + | |
| Dengeki Touki | | Press and hold , , or |
| Gyro Crush | + | (move with or ) |
| Mega Stake | + | |
| Giga Burn | + | |
| Mega Forehead | + | |
| Mega Shock | + | , close |
| Mega Spike | + | , close |
| Great Geldenheim | + | (grab with ) |
| Thunder Break | + | |
| Geldenheim 3 | + | , close |
| Dark Force | | + of the same strength |