Jump to navigation
Jump to search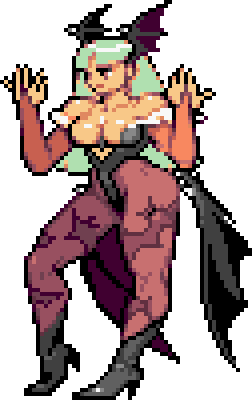 Click here for more information about Morrigan's other fighting game appearances.
ORIGIN/TYPE: Scotland/Succubus
"My beauty can overcome brains and brawn!"
Morrigan (full name: Morrigan Aensland) is the adopted daughter of Belial Aensland. When she was born, Morrigan was extremely powerful with an S-class rating, so much so that Belial sealed away part of her power, one-third in himself to be returned upon his death, and one-third in a pocket dimension, which eventually became a being of its own, a succubus named Lilith. Without knowing this, Morrigan grew up. She found her life in the Aensland castle dull, and so she visited the human world many times to look for some kind of entertainment. One night, she was drawn to a strange power (later identified as Pyron) and ventured into the human world once again.
After she returned from the human world, she was told that Belial had died and that she is the next successor to the throne of the Aensland family. Although she is rightfully the ruler of Makai, she keeps avoiding her responsibilities and continues her life as before. But when Jedah created the Majigen, she and her castle were pulled into Jedah's dimension. Sensing Lilith, Morrigan sets off hoping to find some sort of enjoyment. After she meets Lilith, the two become one again.
Morrigan is very vain, and lives for little more than the excitement of battle, although her endings in the games as well as various media show that Morrigan slowly takes up more of her responsibility seriously. She is a beautiful succubus woman with long, light green hair, and bat-like wings on her back and the sides of her head. Morrigan can reshape these wings into spikes and blades when attacking her enemies, as well as using them to shield herself from enemy attacks. Her wings can also separate from her, and form into a cloud of bats. She uses a variety of magical attacks as well.
Although Demitri would seem to fill the spot, it is often suggested and implied that Morrigan is the main character of the Darkstalkers series, due to her importance in the overall story as well as her many appearances outside of her game series. She may even be considered the protagonist or something of an anti-hero, since despite her demonic appearance and nature, she is not evil.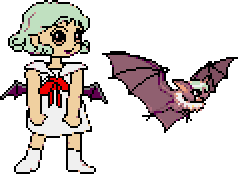 When hit by Anakaris' Pharaoh's Curse, she becomes a bat, ironically very much like Demitri. When attacked by Demitri's Midnight Bliss, she becomes what's known as a "cupie doll" (short for cutie pie) that are popular prizes at amusement parks. Morrigan's Darkness Illusion was the first super move to use the button press sequence (LP, LP, F, LK, HP) that is now commonly associated with the Shun Goku Satsu and also was able to throw projectiles from the air before Akuma. Morrigan was the original Darkstalker to break out of her original fighting game series and be transplanted in to the Marvel vs. Capcom series. In the first Marvel vs. Capcom game, not only was Morrigan present, but an alternate "Lilith-style" Morrigan was a secret character. In Marvel vs. Capcom 2, she is joined by fellow Darkstalkers Anakaris, B.B. Hood, and Felicia.
Background Information
[
edit
]
The Succubus Race
[
edit
]
It is generally said that the succubus race absorbs the spirit of the opposite sex and uses it as their own energy source. But the succubi that live in the Aensland family are slightly different. They create a special secretion liquid in their body when they are either physically or mentally stimulated. They use this liquid to maintain their life. If one were to be trapped inside a small secluded area, she would die within two days due to the lack of stimulus. This is because the liquid needed to maintain her life can't be secreted. But to make up for this, they have become able to look into the dreams of others. When no stimulus was given, they evolved to look for other ways to look for excitement. When a creature dreams, a special secretion liquid is formed in the brain. A succubus can take this liquid from the outside. Those who have been robbed have strange feelings, as if their dream was completely taken away. This is quite different from not having any memory of a dream. This liquid, which the succubus robbed, is dissolved into the body of the succubus and is composed.
Their blood and saliva has a powerful lustful effect. Their body odor causes a man's blood vessels to dilate and causes a large amount of perspiration. If a man is confronted by a succubus, unless they have a very strong mind, they would instantly be under her spell.
The succubus race lives about 400 years. Roughly ten years after they are born, they gain their adult appearance and keep this beautiful form until they die. Their beautiful appearance is kept intact even when they are old. Over the past several hundred years, their ability to reproduce has been in danger. The amount of spirit that can be taken from an individual is limited. There search for new dreams have caused them to reach into the human world but it is becoming more and more difficult to reach a good amount of nutrition. When Morrigan became the successor of the Aensland family, there were roughly only 200 succubi left. At this rate, the succubus race would disappear after one or two generations. But the succubi themselves do not care about the crisis and are enjoying their everyday lives.
The Incubus Race
[
edit
]
The Incubus race is said to be the opposite race to the Succubus race. The Incubus is not simply a distinction like a male and female in a race but a completely different race. Although they are treated as a lecherous race like the succubus, they are quite different. First off, their physical looks are not all handsome looking guys, unlike the succubus where they are all beautiful looking women. Many of the incubuses are inhuman and may have four feet or may be dragon types. 60% of the incubus race are made up from these types. They have a powerful aphrodisiac digestive fluid in their body and they pour this into their victim. This fluid causes the victim's elements inside to change and becomes a very efficient food type for them. This method is similar to an insect or an animal. they prefer women because they are better food type than men. They only eat men when they have to.

| Name | | Input |
| --- | --- | --- |
| Moon Tracer | or + | or |
| Soul Fist | + | |
| Air Soul Fist | + | |
| Shadow Blade | + | |
| Vector Drain | + | or , close |
| Shell Kick | + | |
| Darkness Illusion | | |
| Valkyrie Turn | + | , then or |

| Name | | Input |
| --- | --- | --- |
| Vertical Dash | | hold , then or |
| Moon Tracer | or + | or |
| Sexual Embrace | or + | or |
| Shell Kick | + | |
| Soul Fist | + | |
| Air Soul Fist | + | |
| Shadow Blade | + | |
| Vector Drain | + | or , close |
| Darkness Illusion | | |
| Valkyrie Turn | + | (press }} or ) |
| Astral Vision | | |

| Name | | Input |
| --- | --- | --- |
| Flying Dash | | or |
| __Vertical Dash Flying | | hold during Flying Dash |
| Vertical Dash Straight | | |
| Vertical Dash Forward | | or (hold ) |
| Vertical Dash Backward | | (hold ) |
| Moon Tracer | or + | or |
| Breast Anguish | or + | or |
| Sexual Embrace | or + | or |
| Shell Pierce | + | or while opponent is downed |
| Soul Fist | + | |
| Shadow Blade | + | |
| Vector Drain | + | or , close |
| Darkness Illusion | | |
| Valkyrie Turn | + | (press or for attack) |
| Finishing Shower | | (direct with joystick) |
| Cryptic Needle | | |
| Bunshin Kougeki: Astral Vision | | + of the same strength |

| Name | | Input |
| --- | --- | --- |
| Flying Dash | | or |
| __Vertical Dash Flying | | hold during Flying Dash |
| Vertical Dash Straight | | |
| Vertical Dash Forward | | or (hold ) |
| Vertical Dash Backward | | (hold ) |
| Moon Tracer | or + | or |
| Breast Anguish | or + | or |
| Sexual Embrace | or + | or |
| Shell Kick | + | |
| Shell Pierce | + | or while opponent is downed |
| Soul Fist | + | |
| Shadow Blade | + | |
| Vector Drain | + | or , close |
| Darkness Illusion | | |
| Valkyrie Turn | + | (press or for attack) |
| Bunshin Kougeki: Astral Vision | | |
| Finishing Shower | | (direct with joystick) |
| Cryptic Needle | | |
| Dark Force | | + of the same strength |