From StrategyWiki, the video game walkthrough and strategy guide wiki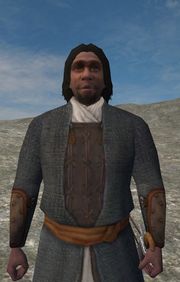 Probably best used as a heavy mounted unit, as his Courser will probably be the fastest horse on the field for the early stages of the game. With starting points in Ironflesh and Power Strike, it may be useful to use Nizar as a sword-and-lance mounted warrior, with thrown weapons to give him a ranged option.
Nizar likes winning against heavy odds and dislikes fleeing battles, so he's a good option for most combat situations. His starting equipment is Scimitar, Nomad Robe, Nomad Boots, and a Courser. He is the only hero who starts with his own horse.
Leader skills
Proficiencies