From StrategyWiki, the video game walkthrough and strategy guide wiki
This is the first game in the Paper Mario series. For other games in the series see the Paper Mario category.
Paper Mario, the spiritual successor to Super Mario RPG: Legend of the Seven Stars, takes place in a world entirely composed of paper cutouts.
You control Mario, who is out once again to save Princess Peach from the clutches of Bowser.
This time, Bowser and his assistant, Kammy Koopa, steal the Star Rod, a mystical wand with the power to grant wishes. With it, he imprisons the seven Star Spirits, the protectors of the Star Rod, and kidnaps Princess Peach and her castle. Mario will team up with several companions and travel to distant lands on his journey to free the Star Spirits, rescue Peach, and end Bowser's evil plan.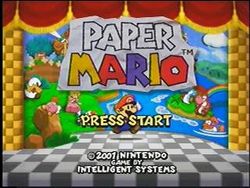 Table of Contents