From StrategyWiki, the video game walkthrough and strategy guide wiki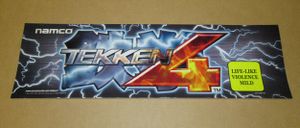 Tekken 4 is a one-on-one fighting arcade game that was released by Namco in 2001; it runs on that company's System 246 hardware, and despite its name, is the fifth title in the Tekken series (Tekken Tag Tournament was the fourth). The players must yet again use an 8-way joystick and four buttons (two for left and right punches and two for left and right kicks) to take up control of two of ten fighters (King, Hwoarang, Yoshimitsu, Ling Xiaoyu, Marshall Law, Paul Phoenix, and Kazuya Mishima from the previous titles, and three new fighters, Christie Monteiro, Steve Fox and Craig Marduk) - and as in the second to fourth titles, a month after the NVRAM has been initialised, it shall introduce one new character per week over a period of thirteen, for a total of twenty-three characters (and the hidden characters are Eddy Gordo, Jin Kazama, Julia Chang, Kuma, Lee Chaolan, Lei Wulong, Nina Williams, Panda and Yoshimitsu from the previous titles, and four new fighters, Bryan Fury, Combot, Miharu Hirano and Violet). The game later got ported to the Sony PlayStation 2 in Japan on March 28, 2002 and in the EU and US on September 13 and 23 of that same year; this was also for unknown reasons the only Tekken title that didn't feature either a Jack robot or Anna Williams.
Tekken Force Mode also returned in the PlayStation 2 version (but this time around, it was viewed from behind the player's chosen character); the fried chicken energy powerups remained, however.
Table of Contents
Appendices
Tekken
Tekken 2
Tekken 3
Tekken Tag Tournament
Tekken 4
Tekken 5
Tekken 5: Dark Resurrection
Tekken 6
Tekken 6: Bloodline Rebellion
Tekken Tag Tournament 2
Tekken 3D: Prime Edition