Jump to navigation
Jump to search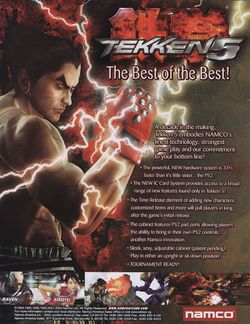 Neoseeker Related Pages
Links
This guide is for the original 2004 game. For the 2005 update, see Tekken 5: Dark Resurrection.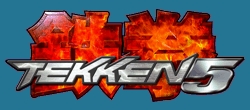 Tekken 5 is a one-on-one fighting arcade game which got released by Namco in 2004; it was the first game to run on the company's then-new System 256 hardware (an MIPS R5000 running at 294 MHz, with a PSX SPU running at 48 KHz). Despite its name, the game is the sixth title in the Tekken series (for Tekken Tag Tournament was the fourth one, and Tekken 4 the fifth one) - and both players must use an 8-way joystick and four buttons (two for left and right punches, and two for left and right kicks) for taking up control of two of twenty fighters (Bryan, Christie, Craig Marduk, Hwoarang, Jin, Julia, Kazuya, King, Lee, Lei, Marshall Law, Nina, Paul, Steve, Ling Xiaoyu and Yoshimitsu from the 5 previous titles, and four new ones, Asuka Kazama, Feng Wei, Jack 5 and Raven). The System 256 hardware was also based upon the Sony PlayStation 2 so players could bring in their PS2 controllers and plug them into the ports on the cabinet - and when this game was ported to the PS2 in Japan on February 24, 2005 (and later in the US and EU on March 31 and June 24 of the same year), Tekken Force Mode did not return, as it had been usurped by a new minigame by the name of Devil Within.
Two weeks after the NVRAM has been initialised, Anna and Baek will become selectable, along with a fifth new character of Roger Jr. (a kangaroo); two weeks after that date, Bruce, Kuma, and Wang will also become selectable. On the forty-first day, the Cathedral and Final Stages will get unlocked - and on the forty-second, Devil Jin, Ganryu and Mokujin shall become selectable. Four weeks after that date, Heihachi and that Random Selection Box shall also become selectable; after Kuma has become selectable, Panda can also be activated when a player selects him and presses either Kick Button to confirm their choice. Also, if a player purchased and registered a "Data Card" of the game with Christie, earned 400000

(Gamerscore points) on it, and purchased the "Head: ?????" item, they would unlock Eddy - and in a first for the series, the last boss Jinpachi Mishima is completely unplayable (meaning that he was not even made a playable character in the PlayStation 2 version).
In 2005, this game received an update, named Tekken 5.1, which changed the characters' move lists and the "wall system" (which was introduced in the previous title, but it did not affect the gameplay as much in this one); later that same year, it received another one, named Tekken 5: Dark Resurrection.
Table of Contents
Appendices
Tekken
Tekken 2
Tekken 3
Tekken Tag Tournament
Tekken 4
Tekken 5
Tekken 5: Dark Resurrection
Tekken 6
Tekken 6: Bloodline Rebellion
Tekken Tag Tournament 2
Tekken 3D Prime Edition
Tekken 7
Tekken 8