Jump to navigation
Jump to search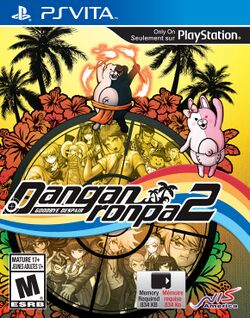 Danganronpa 2: Goodbye Despair (スーパーダンガンロンパ2 さよなら絶望学園, Super Danganronpa 2: Sayonara Zetsubō Gakuen?, lit. Super Danganronpa 2: Goodbye, Despair Academy) is a visual novel adventure game developed by Spike Chunsoft. It is the second game in the Danganronpa franchise, following 2010's Danganronpa: Trigger Happy Havoc. It was first released in Japan for the PlayStation Portable in July 2012, with a port released worldwide by NIS America in September 2014. A port for Windows, Mac OS, and Linux was also released via Steam in April 2016, as well as a bundle containing the first Danganronpa for the PlayStation Vita in Japan in 2013, and PlayStation 4 worldwide in March 2017, called Danganronpa 1-2 Reload.
The story follows a group of high school students who are trapped on a tropical island by their high school's headmaster Monokuma, a sentient stuffed bear, along with a relative of Monokuma's, Monomi, a sentient stuffed rabbit. Similar to the first game, students are told to kill one of their peers and not be caught in the subsequent investigation and trial in order to leave the island.
Danganronpa 2: Goodbye Despair is followed by the canon spin-off Danganronpa Another Episode: Ultra Despair Girls released on September 25, 2014, and the anime Danganronpa 3: The End of Hope's Peak High School which ran from July 11, 2016 to September 29, 2016 and consisted of three parts that wrapped up the storyline. A loose sequel to the series called Danganronpa V3: Killing Harmony was released on January 12, 2017 with similar gameplay, but a different storyline.
Following a similar premise to the previous game, Danganronpa 2 puts players in control of Hajime Hinata, an amnesiac boy who has just become one of Hope's Peak Academy's 'Ultimate' students, alongside fifteen others. The students find themselves taken to the remote tropical Jabberwock Island by their alleged teacher, a small, rabbit-like mascot named Usami, who claims it to be a simple field trip. However, things turn out to be too good to be true as Hope's Peak Academy's notorious principal, Monokuma, announces they are stuck on the island for life unless they can murder another student and get away with it. If the students can determine a murderer in a Class Trial, that culprit is executed, but if they make the wrong assumption, then the killer walks home free whilst everyone else is sentenced to death.
Table of Contents
Appendices

Walkthrough

Chapter 1: Destination Despair
Chapter 2: Sea and Punishment, Sin and Coconuts
Chapter 3: Trapped by the Ocean Scent
Chapter 4: Do Ultimate Robots Dream of Clockwork?
Chapter 5: Smile at Hope in the Name of Despair
Chapter 6: This is the End, Goodbye Academy of Despair