Jump to navigation
Jump to search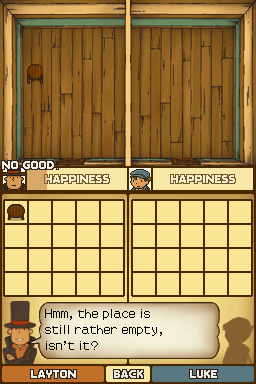 Upon securing accommodations at the Inn, Layton and Luke will begin to receive furniture for their bare rooms. This section helps you arrange the furniture in a way that will make Luke and Layton both happy. To furnish these rooms, Luke and Layton begin receiving items as rewards for solving puzzles.
Layton and Luke have different tastes. It is your task to give each gentleman the items he needs to feel most comfortable in his room. When both Layton and Luke are satisfied, something good will happen!
To switch furniture between Luke and Layton, tap the furniture with the stylus and drag it across the screen to an empty square above Luke or Layton's heads. Whenever you receive a new piece of furniture, be sure to try it out in both Luke and Layton's rooms to see who will enjoy it more.
Where to Find
[
edit
]
Decorating
[
edit
]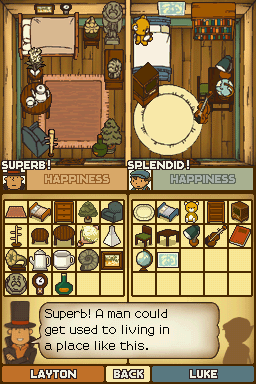 Once you've gotten all 30 furniture pieces, check out the Inn Rooms in the Main menu to see if you have sorted the furniture properly. If not, then you can arrange the furniture manually by checking the Pic to the left to see which furniture goes in which room.
If all the furniture pieces are sorted properly (in other words; they are happy), then you will gain access to the The Decorator's House which will have 3 new Puzzles ready for you. If by accident you missed one furniture, then look up the table to see where you can get it.