From StrategyWiki, the video game walkthrough and strategy guide wiki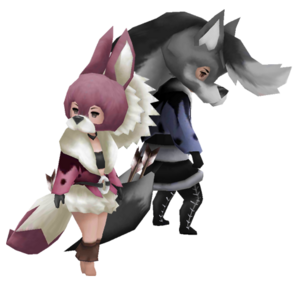 Rangers are strong physical attackers that specialize at targeting family weaknesses. Their high aptitude in Bows is rare among other jobs, which is certainly a plus since Bows are some of the strongest weapon types in the game. The Ranger's skillset is rather boring, as most of it consists of various "slayer" abilities that target enemy weaknesses. However, these skills synergize very well with the Bow, as it lets Rangers effortlessly prepare Bow specials. Rangers also make great secondary jobs, given their range of slayer attacks that target enemy weaknesses. Precision and Hawkeye are also fairly desirable support commands for other physical classes as well. It's just a pity that the Hunting job command lacks a Human slayer, as a large chunk of enemies including bosses are humanoid.
Specialty: Hawkeye
[
edit
]
Hawkeye raises the accuracy of Rangers by 100%. The impact of this ability isn't too big since Bows and Daggers have higher than average AIM. It does work well with Precision to increase your damage output, and doesn't take up a support command slot to do so.
Stat Affinities
HP
C
MP
C
STR
B
INT
D
DEX
B
VIT
C
MND
D
AGI
B

Arms Aptitude
Swords
D
Rods
D
Bows
S
Axes
E
Staves
D
Katana
D
Spears
D
Daggers
S
Knuckles
D

Armor Aptitude
Shields
E
Helms
E
Armor
E
Job Command: Hunting
[
edit
]
| Level | Name | Cost | Type | Description |
| --- | --- | --- | --- | --- |
| 1 | Targeting | 12 MP | Command | Deal 1.25 times the damage of a conventional attack while piercing Default status. It's an average ability that is most useful against enemies and bosses that utilize Default very often, particularly the Land Turtle which you may likely fight soon after getting the Ranger asterisk. |
| 2 | Bug Slayer | 8 MP | Command | Deal 1.5 times the damage of a conventional attack to members of the bug family. |
| 3 | Plant Slayer | 8 MP | Command | Deal 1.5 times the damage of a conventional attack to members of the plant family. |
| 4 | Beast Slayer | 8 MP | Command | Deal 1.5 times the damage of a conventional attack to members of the beast family. |
| 5 | Paralyze Immunity | 1 | Support | Confer immunity to paralysis during battles. Paralysis is a pretty debilitating status effect that is slightly expensive to cure, since it lacks a dedicated healing item and spell. Not many enemies can inflict paralysis, but it's certainly usable against bosses that do. |
| 6 | Aerial Slayer | 8 MP | Command | Deal 1.5 times the damage of a conventional attack to members of the aerial family. Somewhat redundant when fighting with a Bow, since aerial enemies are naturally weak to arrows. |
| 7 | Aquatic Slayer | 8 MP | Command | Deal 1.5 times the damage of a conventional attack to members of the aquatic family. |
| 8 | Bow Lore | 1 | Support | Raise arms aptitude for bows to S. Since Bows grant above average P.Atk and is strong against aerial enemies, it is an attractive support skill for other physical attackers. |
| 9 | Dragon Slayer | 8 MP | Command | Deal 1.5 times the damage of a conventional attack to members of the dragonkind family. |
| 10 | Undead Slayer | 8 MP | Command | Deal 1.5 times the damage of a conventional attack to members of the undead family. |
| 11 | Demon Slayer | 8 MP | Command | Deal 1.5 times the damage of a conventional attack to members of the demonkind family. |
| 12 | Hawkeye | 1 | Support | Raise accuracy by 100%. The extra accuracy is useful for jobs that prefer more inaccurate weapons, such as pirates and their unwieldy axes. More importantly, it works very well with Precision to ramp up your damage output. |
| 13 | Precision | 2 | Support | When all conventional attacks hit, damage will rise according to the number of attacks. Specifically, damage is increased by 3% for each attack. This support skill is usually paired with Hawkeye to maximize its damage. The Ninja's Frenetic Fighting doubles your number of attacks per turn, granting an even greater damage increase when used with Precision. |
| 14 | Multiburst | 1 BP | Command | Unleash four physical attacks that randomly target enemies, dealing 0.6 times the damage of a conventional attack. Obviously, the lower the number of enemies you're facing, the more threatening this attack becomes. It is obtained very late even though it's used during the fight against Artemia. By then, it might find itself outclassed by stronger mid-late game abilities. |