Jump to navigation
Jump to search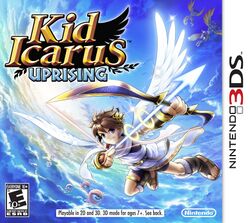 Neoseeker Related Pages
Links
Independent wikis with more information:
Kid Icarus: Uprising, known in Japan as New Light Mythology: Palutena's Mirror (新・光神話 パルテナの鏡, Shin Hikari Shinwa: Palutena no Kagami?), is a title for the Nintendo 3DS, developed by Project Sora and published by Nintendo. It is the third game in the Kid Icarus series and the first since 1991's Kid Icarus: Of Myths and Monsters, a nineteen-year wait referenced in the game's announcement trailer shown at E3 2010. It was released on March 23, 2012 in North America and Europe. The game is also compatible with Circle Pad Pro and is bundled with the new Nintendo 3DS Stand accessory for every copy of the game. It also uses the Nintendo Network.
The plot of Uprising follows the angelic protagonist, Pit, as he battles against the forces of a reborn Medusa who seeks to destroy mankind. Pit also utilizes the ability of flight granted by Palutena called the "Power of Flight" to aid him in flying to different worlds so he can fight massive monsters. However, Pit finds himself also dealing with a doppelganger of himself called Dark Pit.
Table of Contents