Jump to navigation
Jump to search
Club LOL is the Town's main entertainment venue and is where the player can go see K.K. Slider perform. During the day, you can talk with Dr. Shrunk and by providing him with a snack, he will happily teach you emotions through the medium of stand-up comedy!
Club LOL has to be unlocked before it opens on Main Street.
Club Nights
[
edit
]
Every weekday and Sunday night, DJ K.K. will perform at the club. His songs are remixes of K.K. Slider songs played one after the other. Usually, three K.K. Slider songs will be played as a medley before going into a slight transition period. During the transition, the screen can flash the town flag and player's picture while playing the town tune, or the Gyroids behind DJ K.K. will activate and perform to the rhythm.
Dancing
[
edit
]
During club nights, you can make your character dance using the d-pad. Every direction you push gives you a different dance move, from fist pumps to cheers.
Gyroids
[
edit
]
Saturday Night
[
edit
]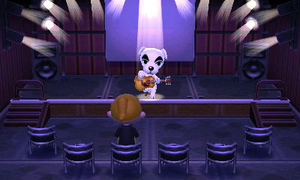 Emotions
[
edit
]