Jump to navigation
Jump to search
Legend:
No. = Japanese for "Number"
DL: Dr. Light
DW: Dr. Wily
MK: Mega Man Killer
WW: Wily Wars
SD: Stardroid
KG: King
ET: Extra-Terrestrial
Original names, when different from the localized ones, are in parentheses. Spin-off sport games are smaller and in parentheses.
On the GBA port there is the option of resetting the database. Go to the save screen (e.g. enter and exit a stage), then press

+

+

+

at the same time.
| CD | Serial | Robot Master | Game(s) | Location in MM&B |
| --- | --- | --- | --- | --- |
| 1 | DL No.01 | Mega Man (Rock) | all | Dynamo Man |
| 2 | DL No.02 | Roll | since MM1 | Cold Man |
| 3 | DL No.03 | Cut Man | MM1, MMw1, MM8, MMPB, MMPF, (MMS), MMX8 | Magic Man |
| 4 | DL No.04 | Guts Man | MM1, MM7, MMPB, MMPF, (MMBC) | Burner Man |
| 5 | DL No.05 | Ice Man | MM1, MMw1, MMPB, (MMS), (MMBC) | Cold Man |
| 6 | DL No.06 | Bomb Man | MM1, (MMS) | Tengu Man |
| 7 | DL No.07 | Fire Man | MM1, MMw1, (MMS) | Astro Man |
| 8 | DL No.08 | Elec Man | MM1, MMw1, MMPF, (MMS) | Dynamo Man |
| 9 | DW No.09 | Metal Man | MM2, MMw2 | Magic Man |
| 10 | DW No.10 | Air Man | MM2, MMw2, MMPF, (MMS) | Tengu Man |
| 11 | DW No.11 | Bubble Man | MM2, MMw1, MMPF, (MMS) | Pirate Man |
| 12 | DW No.12 | Quick Man | MM2, MMw1, MMPF, (MMBC) | Dynamo Man |
| 13 | DW No.13 | Crash Man | MM2, MMw2, MMPB | Ground Man |
| 14 | DW No.14 | Flash Man | MM2, MMw1, (MMS) | Cold Man |
| 15 | DW No.15 | Heat Man | MM2, MMw1, MMPB, MMPF | Burner Man |
| 16 | DW No.16 | Wood Man | MM2, MMw2, MM8, MMPB, (MMS) | Burner Man |
| 17 | DW No.17 | Needle Man | MM3, MMw2, (MMS) | Ground Man |
| 18 | DW No.18 | Magnet Man | MM3, MMw2, MMPB | Dynamo Man |
| 19 | DW No.19 | Gemini Man | MM3, MMw3, MMPB, MMPF, (MMS) | Astro Man |
| 20 | DW No.20 | Hard Man | MM3, MMw2 | Burner Man |
| 21 | DW No.21 | Top Man | MM3, MMw2, (MMS) | Magic Man |
| 22 | DW No.22 | Snake Man | MM3, MMw3, (MMS) | Tengu Man |
| 23 | DW No.23 | Spark Man | MM3, MMw3 | Dynamo Man |
| 24 | DW No.24 | Shadow Man | MM3, MMw3, MMPF, (MMBC) | Astro Man |
| 25 | DW No.25 | Bright Man | MM4, MMw4 | Dynamo Man |
| 26 | DW No.26 | Toad Man | MM4, MMw4, (MMS) | Robot Museum |
| 27 | DW No.27 | Drill Man | MM4, MMw3 | Ground Man |
| 28 | DW No.28 | Pharaoh Man | MM4, MMw4, MMPF, (MMS) | Ground Man |
| 29 | DW No.29 | Ring Man | MM4, MMw4 | Astro Man |
| 30 | DW No.30 | Dust Man | MM4, MMw3, MMPB, (MMS) | Magic Man |
| 31 | DW No.31 | Dive Man | MM4, MMw3, MMPF | Pirate Man |
| 32 | DW No.32 | Skull Man | MM4, MMw3, (MMS) | Tengu Man |
| 33 | DW No.33 | Gravity Man | MM5 | Dynamo Man |
| 34 | DW No.34 | Wave Man | MM5 | Pirate Man |
| 35 | DW No.35 | Stone Man | MM5, MMw4, MMPF | Ground Man |
| 36 | DW No.36 | Gyro Man | MM5, MMPB, MMPF | Tengu Man |
| 37 | DW No.37 | Star Man | MM5 | Astro Man |
| 38 | DW No.38 | Charge Man | MM5, MMw4 | Magic Man |
| 39 | DW No.39 | Napalm Man | MM5, MMw4, MMPB, MMPF, (MMBC) | Dynamo Man |
| 40 | DW No.40 | Crystal Man | MM5, MMw4 | Cold Man |
| 41 | DW No.41 | Blizzard Man | MM6 | Cold Man |
| 42 | DW No.42 | Centaur Man | MM6, MMPF | Pirate Man |
| 43 | DW No.43 | Flame Man | MM6 | Burner Man |
| 44 | DW No.44 | Knight Man | MM6 | Cold Man |
| 45 | DW No.45 | Plant Man | MM6, MMPB, MMPF | Burner Man |
| 46 | DW No.46 | Tomahawk Man | MM6 | Tengu Man |
| 47 | DW No.47 | Wind Man | MM6 | Tengu Man |
| 48 | DW No.48 | Yamato Man | MM6 | Astro Man |
| 49 | DW No.49 | Freeze Man | MM7, MMPB | Cold Man |
| 50 | DW No.50 | Junk Man | MM7, MMPB | Magic Man |
| 51 | DW No.51 | Burst Man | MM7 | Ground Man |
| 52 | DW No.52 | Cloud Man | MM7, MMPB | Tengu Man |
| 53 | DW No.53 | Spring Man | MM7, (MMBC) | Dynamo Man |
| 54 | DW No.54 | Slash Man | MM7, MMPB, MMPF | Burner Man |
| 55 | DW No.55 | Shade Man | MM7, MMPB, MMPF | Ground Man |
| 56 | DW No.56 | Turbo Man | MM7, MMPB | Magic Man |
| 57 | DW No.57 | Tengu Man | MM8, MM&B | Tengu Man |
| 58 | DW No.58 | Astro Man | MM8, MM&B | Astro Man |
| 59 | DW No.59 | Sword Man | MM8 | Ground Man |
| 60 | DW No.60 | Clown Man | MM8 | Magic Man |
| 61 | DW No.61 | Search Man | MM8 | Burner Man |
| 62 | DW No.62 | Frost Man | MM8 | Cold Man |
| 63 | DW No.63 | Grenade Man | MM8 | Dynamo Man |
| 64 | DW No.64 | Aqua Man | MM8 | Pirate Man |
| 65 | MK No.01 | Enker (Enka) | MMw1, MMw5, (MMS) | Astro Man |
| 66 | DL No.01 | Quint (Quintet) | MMw2, MMw5 | Magic Man |
| 67 | MK No.02 | Punk | MMw3, MMw5 | Cold Man |
| 68 | MK No.03 | Ballade | MMw4, MMw5 | Magic Man |
| 69 | SD No.01 | Terra (Earth) | MMw5 | Astro Man |
| 70 | SD No.02 | Mercury | MMw5 | Pirate Man |
| 71 | SD No.03 | Venus | MMw5 | Pirate Man |
| 72 | SD No.04 | Mars | MMw5 | Tengu Man |
| 73 | SD No.05 | Jupiter | MMw5 | Tengu Man |
| 74 | SD No.06 | Saturn | MMw5 | Astro Man |
| 75 | SD No.07 | Uranus | MMw5 | Ground Man |
| 76 | SD No.08 | Pluto | MMw5 | Burner Man |
| 77 | SD No.09 | Neptune | MMw5 | Pirate Man |
| 78 | ET No.01 | Sunstar (Sungod) | MMw5 | Ground Man |
| 79 | MW No.01 | Buster Rod-G | MMWW | Astro Man |
| 80 | MW No.02 | Mega Water-S | MMWW | Pirate Man |
| 81 | MW No.03 | Hyper Storm-H | MMWW | Burner Man |
| 82 | KG No.01 | Dynamo Man | MM&B | Dynamo Man |
| 83 | KG No.02 | Cold Man | MM&B | Cold Man |
| 84 | KG No.03 | Ground Man | MM&B | Ground Man |
| 85 | KG No.04 | Pirate Man | MM&B | Pirate Man |
| 86 | KG No.05 | Burner Man | MM&B | Burner Man |
| 87 | KG No.06 | Magic Man | MM&B | Magic Man |
| 88 | (human) | Dr. Light | all | Cold Man |
| 89 | | Rush | since MM3 | Dynamo Man |
| 90 | | Eddie | since MM4 | Tengu Man |
| 91 | | Beat | since MM5 | Ground Man |
| 92 | | Tango | MMw5 | Robot Museum |
| 93 | | Auto (Rightot) | since MM7 | Ground Man |
| 94 | (human) | Dr. Wily | all | Cold Man |
| 95 | | Bass (Forte) | since MM7 | Astro Man |
| 96 | | Treble (Gospel) | since MM7 | Tengu Man |
| 97 | | King | MM&B | Burner Man |
| 98 | DL No.00 | Proto Man (Blues) | since MM3 | Magic Man |
| 99 | ET No.02 | Duo | MM8, MMPF, (MMBC) | Dynamo Man |
| 100 | | Mega Man & Bass | - | Robot Museum |
Characters excluded from the database: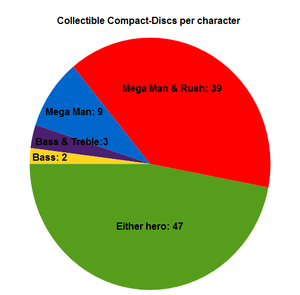 This is a summary of who can collect what:
39 CDs: Mega Man & Rush only;
9 CDs: Mega Man only (sliding);
5 CDs: Bass only (using either Treble Boost or Ice Wall & double-jump);
47 CDs: either character; further requirements for such CDs are as follows:

17 CDs: free;
14 CDs: either Bass' double-jump or Ice Wall;
1 CD: either Bass' double-jump or Lightning Bolt;
9 CDs: Wave Burner;
4 CDs: either Bass' Treble Boost or Ice Wall & spike guard;
1 CD: Lightning Bolt (or spike guard);
1 CD: spike guard;