Jump to navigation
Jump to search
Click here for more information about Bob's other fighting game appearances.

Bob Wilson (ボブ・ウィルソン) is a cheerful young man who loves to combine dancing with his Brazilian style of Capoeira, often seeking to test his skills out against many fighters so that he can learn the benefits and mistakes of his battles.
Story (in the Real Bout Series)
[
edit
]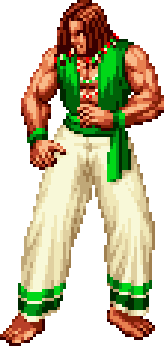 For more information, see Bob's Fatal Fury profile.
Bob is one of the fighters that helps "The Lonely Wolves" reach Geese Howard in the "King of Fighters" tournament before he could use the scrolls to make him immortal. After Geese's death, Richard Meyer appoints Bob as the sole owner of the Pao Pao Café 2.

Command Move

| | |
| --- | --- |
| Sliding Head Butt | + |

| | |
| --- | --- |
| Bob's Summer | (opponent down) |

| | |
| --- | --- |
| Elephant Tusk | + |

Fangs of
the Lynx
(opponent down) +
Special Move

| | |
| --- | --- |
| Wild Wolf | + |

| | |
| --- | --- |
| Monkey Dance | + |

Throw

| | |
| --- | --- |
|  └►Frog Hunting | |
Command Move

| | |
| --- | --- |
| Elephant Tusk | + |

| | |
| --- | --- |
| Flying Fish | (wake up move) |

| | |
| --- | --- |
| H. Hedgehog | (during dash) + |
Special Move

| | |
| --- | --- |
| Rolling Turtle | + |
Special Move

| | |
| --- | --- |
| Wild Wolf | + |

| | |
| --- | --- |
| Bison Horns | + |

| | |
| --- | --- |
| Sidewinder Slide | + |
Power Move

| | |
| --- | --- |
| └►Wolf Fang | |

Throw

| | |
| --- | --- |
| Eagle Catcher | (close) or + |
Command Move

| | |
| --- | --- |
| H. Hedgehog | (during dash) + |

| | |
| --- | --- |
| Flying Fish | (knocked down) |

| | |
| --- | --- |
| Elephant Tusk | + |

Fangs of
the Lynx
(opponent down) +
Special Move

| | |
| --- | --- |
| Wild Wolf | + |

| | |
| --- | --- |
| Bull's Horn | + |
Special Move

| | |
| --- | --- |
| Rolling Turtle | + |

| | |
| --- | --- |
| Sidewinder | + |

| | |
| --- | --- |
| Monkey Dance | + |