Jump to navigation
Jump to search
Click here for more information about Kim's other fighting game appearances.

Kaphwan Kim (김갑환) is a master of taekwondo, and also considers himself a fighter of justice. Since Kim was young and during his taekwondo training sessions, he was always reminded to fight for justice, and use the martial art as a way to accomplish this.
Story (in the Real Bout Series)
[
edit
]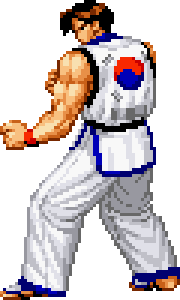 For more information, see Kim's Fatal Fury profile.
Kim is one of the fighters that helps "The Lonely Wolves" reach Geese Howard in the "King of Fighters" tournament before he could use the scrolls to make him immortal. After Geese's death, Kim still seeks to fight for Justice.
During the events surrounding Garou: Mark of the Wolves, Kim does battle with the serial killer Freeman. He is defeated in no small part due to his age. After days without calling home and news of the fight reaching Korea, Kim's sons Kim Dong Hwan and Kim Jae Hoon search for Freeman to get their revenge. In the latest "King of Fighters" tournament, Kim's sons defeat Freeman but Kim Kaphwan's current status is unknown.

Command Move

| | |
| --- | --- |
| Nerichagi | + |

| | |
| --- | --- |
| Domination Kick | + |
Special Move

| | |
| --- | --- |
| Flying Slice | + |

| | |
| --- | --- |
| └►Flying Slice | + |

| | |
| --- | --- |
| Aerial Dust Storm | + |

Command Move

| | |
| --- | --- |
| Nerichagi | + |
Special Move

| | |
| --- | --- |
| Flying Slice | + |

| | |
| --- | --- |
| └►Flying Slice | + |

| | |
| --- | --- |
| └►Kick of Judgment | + |
Special Move

| | |
| --- | --- |
| Aerial Dust Storm | + |

| | |
| --- | --- |
| Domination Kick | + |

Throw

| | |
| --- | --- |
| Sakkyaku Nage | (close) or + |
Command Move

| | |
| --- | --- |
| Neri Chagi | + |
Special Move

| | |
| --- | --- |
| Kuu Sajin | + |

| | |
| --- | --- |
| └►Kuu Sazan | + |

| | |
| --- | --- |
| Hien Zan | + |
Special Move

| | |
| --- | --- |
| └►Hassei Waza | + |

Throw

| | |
| --- | --- |
| Sakkyaku Nage | (close) or + |
Command Move

| | |
| --- | --- |
| Neri Chagi | + |
Special Move

| | |
| --- | --- |
| └►Tenshou Zan | + |
Special Move

| | |
| --- | --- |
| └►Hassei Waza | + |
Power Move

| | |
| --- | --- |
| Hou'ou Kyaku | + |