Jump to navigation
Jump to search
Click here for more information about Joe's other fighting game appearances.

Joe Higashi (ジョー・ヒガシ) is a champion of Muay Thai and a good friend to Andy Bogard. Although Joe's place of origin is Japan, he spent the majority of his time at Thailand, where he trained Muay Thai. It was through his victories that Joe got the nickname "Hurricane Upper" Joe Higashi.
Story (in the Real Bout Series)
[
edit
]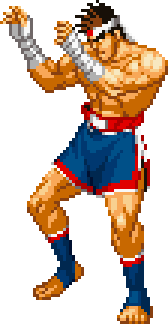 For more information, see Joe's Fatal Fury profile.
After Geese Howard obtains the Jin Scrolls, Geese holds another "King of Fighters" tournament. Around this time, Joe began to develop feelings for Lilly Kane, sister to Billy Kane. Joe and Billy fought in Geese Tower. While he was defeated Joe's fight with Billy turned out to be a distraction for Terry and Andy Bogard to enter Geese Tower and face Geese himself. After Geese's death, Joe went back to fighting in the Muay Thai tournaments.

Throw

| | |
| --- | --- |
| Jaws Special | (close) or + |

| | |
| --- | --- |
| Knees of Hell | + |
Command Move

| | |
| --- | --- |
| Vertical Uppercut | + |

| | |
| --- | --- |
| Crouching Knee Knock | + |

| | |
| --- | --- |
| Sliding | + |

| | |
| --- | --- |
| Joe's Sobat | + |
Special Move

| | |
| --- | --- |
| Hurricane Upper | + |

| | |
| --- | --- |
| Exploding Hurricane | + |

| | |
| --- | --- |
| TNT Punch | |

| | |
| --- | --- |
| └►TNT Hook | + |

| | |
| --- | --- |
| Tiger Kick | + |
Special Move

| | |
| --- | --- |
| Pressure Knee | + |

| | |
| --- | --- |
| Golden Heel Blast | + |

Throw

| | |
| --- | --- |
| Lifting Pressure | (close) or + |

| | |
| --- | --- |
| └►Down Heel | + |

| | |
| --- | --- |
| Rapid Knees | (close) + |
Command Move

| | |
| --- | --- |
| Quick Uppercut | + |

| | |
| --- | --- |
| Rising Elbow | + |

| | |
| --- | --- |
| High Kick | + |

| | |
| --- | --- |
| Slide Kick | + |
Special Move

| | |
| --- | --- |
| Hurricane Upper | + |

| | |
| --- | --- |
| Exploding Hurricane | + |

| | |
| --- | --- |
| TNT Punch | |

| | |
| --- | --- |
| └►Dynamite Fist | + |
Special Move

| | |
| --- | --- |
| Pressure Knee | + |

| | |
| --- | --- |
| └►Explosive Heel | + |

| | |
| --- | --- |
| Golden Heel | + |

Throw

| | |
| --- | --- |
| Jaws Special | (close) or + |

| | |
| --- | --- |
| └►Jaws Special Rout | |

| | |
| --- | --- |
| Knees of Hell | (close) + |
Command Move

| | |
| --- | --- |
| Sliding | + |

| | |
| --- | --- |
| High Kick | + |

Flaming
Fingerprints
(opponent down) +
Special Move

| | |
| --- | --- |
| Hurricane Upper | + |

| | |
| --- | --- |
| Exploding Hurricane | + |

| | |
| --- | --- |
| Exploding Punch | |

| | |
| --- | --- |
| ├►Exploding Hook | + |

| | |
| --- | --- |
| └►Explosive Uppercut | + |
Special Move

| | |
| --- | --- |
| Golden Heel Blast | + |

| | |
| --- | --- |
| Tiger Kick | + |

Command Move

| | |
| --- | --- |
| Sliding | + |
Special Move

| | |
| --- | --- |
| Hurricane Upper | + |
Special Move

| | |
| --- | --- |
| ├►Bakuretsu Upper | + |

| | |
| --- | --- |
| └►Bakuretsu Hook | + |