Jump to navigation
Jump to search
Click here for more information about Franco's other fighting game appearances.

Franco Bash (フランコ・バッシュ) is a kickboxer who works as an airplane mechanic. He has a son (Junior) from his deceased wife and is a good friend of Hon-Fu.
Story (in the Real Bout Series)
[
edit
]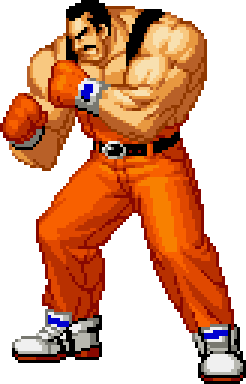 For more information, see Franco's Fatal Fury profile.
After the Jins plans stopped "The Lonely Wolves", Franco rescued his son. Franco enters the "King of Fighters" encouraged by his family to make a formal comeback as a professional kickboxer. He is also one of the fighters that helps "The Lonely Wolves" reach Geese Howard tournament before he could use the scrolls to make him immortal. After Geese's death, Franco and his son traveled the world, with Fanco testing his skill against other powerful fighters.

Command Move

| | |
| --- | --- |
| Bash Tornado | + |

| | |
| --- | --- |
| Franco Smash | (during dash) |

| | |
| --- | --- |
| Stepping Axe | (during dash) |
Special Move

| | |
| --- | --- |
| Meteo Shot | + |

| | |
| --- | --- |
| Waving Blow | + |

| | |
| --- | --- |
| └►Double Waving Blow | + |

| | |
| --- | --- |
| Power Bicycle | + |

| | |
| --- | --- |
| Waving Step | + |
Power Move

| | |
| --- | --- |
| Armageddon Buster | + |

| | |
| --- | --- |
| ├►Straight-Up | + |

| | |
| --- | --- |
| ├►Back Finish | + |

| | |
| --- | --- |
| ├►Tackle | + |

| | |
| --- | --- |
| ├►Hook | + |

| | |
| --- | --- |
| ├►High Kick | + |

| | |
| --- | --- |
| ├►Omega Shot | + |

| | |
| --- | --- |
| ├►Uppercut | + |

| | |
| --- | --- |
| ├►Reverse High Kick | + |

| | |
| --- | --- |
| └►Bicycle | + |

Throw

| | |
| --- | --- |
| Gorilla Rush | (close) or + |
Command Move

| | |
| --- | --- |
| Bash Tornado | + |

| | |
| --- | --- |
| Franco Smash | (knocked down) |
Special Move

| | |
| --- | --- |
| Double Kong | + |

| | |
| --- | --- |
| Zapper | + |

| | |
| --- | --- |
| Waving Blow | + |

Throw

| | |
| --- | --- |
| Gorilla Rush | (close) or + |
Command Move

| | |
| --- | --- |
| Bash Tornado | + |

| | |
| --- | --- |
| Franco Smash | (knocked down) |

| | |
| --- | --- |
| Bloom Punch | + |
Special Move

| | |
| --- | --- |
| Double Kong | + |

| | |
| --- | --- |
| Zapper | + |
Special Move

| | |
| --- | --- |
| Waving Blow | + |