Jump to navigation
Jump to search
Click here for more information about Krauser's other fighting game appearances.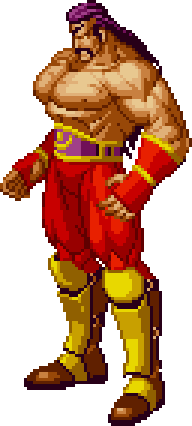 Wolfgang Krauser von Stroheim (ヴォルフガング・クラウザー・フォン・シュトロハイム) (more commonly known as Wolfgang Krauser or simply Krauser) is the German half-brother of Southtowns king of crime Geese Howard.
Story (in the Real Bout Series)
[
edit
]
For more information, see Krauser's Fatal Fury profile.
Krauser's inclusion in the Real Bout series was non-canon and he has no story for his appearances.

Throw

| | |
| --- | --- |
| Knee Smasher | (close) or + |
Command Move

| | |
| --- | --- |
| Diving Elbow | (opponent down) + |
Special Move

| | |
| --- | --- |
| Upper Blitz Ball | + |

| | |
| --- | --- |
| Lower Blitz Ball | + |

| | |
| --- | --- |
| Leg Tomahawk | + |

| | |
| --- | --- |
| Phoenix Thrust | + |

| | |
| --- | --- |
| Dangerous Thrust | (close) + |

| | |
| --- | --- |
| Lift-Up Blow | (close) + |
Power Move

| | |
| --- | --- |
| Gigantic Cyclone | (close) + |

| | |
| --- | --- |
| Unlimited Desire | + • • • • • • • • |

| | |
| --- | --- |
| ├►Finish 1 | |

Throw

| | |
| --- | --- |
| Knee Smasher | (close) or + |
Command Move

| | |
| --- | --- |
| Death Hammer | + |

| | |
| --- | --- |
| Diving Elbow | (opponent down) + |
Special Move

| | |
| --- | --- |
| Upper Blitz Ball | + |

| | |
| --- | --- |
| Lower Blitz Ball | + |

| | |
| --- | --- |
| Leg Tomahawk | + |

| | |
| --- | --- |
| Phoenix Thrust | + |

| | |
| --- | --- |
| Dangerous Thrust | (close) + |

└►Griffon Upper
(facing enemy)
+
Special Move

| | |
| --- | --- |
| Kaiser Claw | + (or from Griffon Upper) |

| | |
| --- | --- |
| Lift-Up Blow | (close) + |
Power Move

| | |
| --- | --- |
| Gigantic Cyclone | (close) + |

| | |
| --- | --- |
| Unlimited Desire | + • • • • • • • • |

| | |
| --- | --- |
| ├►Finish 1 | |

Throw

| | |
| --- | --- |
| Knee Smasher | (close) or + |
Command Move

| | |
| --- | --- |
| Death Hammer | + |
Special Move

| | |
| --- | --- |
| Kaiser Claw | + |

| | |
| --- | --- |
| Lift-Up Blow | (close) + |
Power Move

| | |
| --- | --- |
| Gigantic Cyclone | (close) + |