Jump to navigation
Jump to search
Click here for more information about Cheng's other fighting game appearances.

Cheng Sinzan (チン・シンザン) is a greedy and power-hungry businessman from Taiwan. Although he is not really evil, his main intention is always to increase his status and wealth.
Story (in the Real Bout Series)
[
edit
]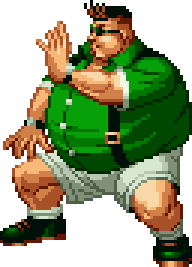 For more information, see Cheng's Fatal Fury profile.
Cheng's inclusion in the Real Bout series was non-canon and he has no story for his appearances.

Throw

| | |
| --- | --- |
| Double Hand Toss | (close) or + |

| | |
| --- | --- |
| Headbutts | (close) + |
Command Move

| | |
| --- | --- |
| Double Orb Attack | + |

| | |
| --- | --- |
| Glowing Orb | + |
Special Move

| | |
| --- | --- |
| Kiten Hinzan | + |

| | |
| --- | --- |
| High Kiten Hinzan | + |
Special Move

| | |
| --- | --- |
| Belly Drum Blast | + |

| | |
| --- | --- |
| Full Reverse Pellet | + |
Fake Move

| | |
| --- | --- |
| Feint Avalanche Crunch | ++ |
Power Move

| | |
| --- | --- |
| Collapse Of Creation | + |

Throw

| | |
| --- | --- |
| Self-Defense Drop | (close) or + |

| | |
| --- | --- |
| Homicidal Head Butt | (close) + |
Command Move

| | |
| --- | --- |
| Falling Double Bop | + |

| | |
| --- | --- |
| Brawny Reverse Bop | + |
Special Move

| | |
| --- | --- |
| Thunderblast Powerball | + |

| | |
| --- | --- |
| AA Thunderblast Powerball | + |

| | |
| --- | --- |
| Super Belly Drum Blast | + |

| | |
| --- | --- |
| └►Full-Gut Carpet Bomb | (while rising) |
Special Move

| | |
| --- | --- |
| Flexible Geezer | + |

| | |
| --- | --- |
| Shark Snuffing Blast | + |
Power Move

Whoo-whoo
Bombshell
+ (hold)