Jump to navigation
Jump to search
Click here for more information about Laurence's other fighting game appearances.

Laurence Blood (ローレンス・ブラッド) is a skillfull and famous matador from Spain. He is a loyal servant of Wolfgang Krauser von Strolheim.
Story (in the Real Bout Series)
[
edit
]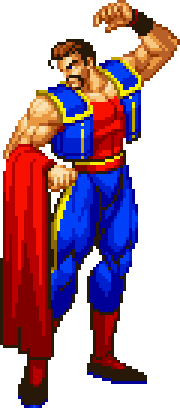 For more information, see Laurence's Fatal Fury profile.
Laurence's inclusion in the Real Bout series was non-canon and he has no story for his appearances.

Throw

| | |
| --- | --- |
| Matador Slash | (close) or + |

Matador
Buster
(close) or or +
Command Move

| | |
| --- | --- |
| Heat Saber | + |

| | |
| --- | --- |
| Ole | + |

| | |
| --- | --- |
| Tornado Kick | + |
Special Move

| | |
| --- | --- |
| Bloody Saber | + (3x) |
Special Move

| | |
| --- | --- |
| Bloody Axle | + |
Power Move

| | |
| --- | --- |
| Final Death Bloody | + |

Throw

| | |
| --- | --- |
| Matador Buster | (close) or + |
Command Move

| | |
| --- | --- |
| Ole | + |

| | |
| --- | --- |
| Tornado Kick | + |
Special Move

| | |
| --- | --- |
| Bloody Saber | + |