Jump to navigation
Jump to search
Click here for more information about Duck King's other fighting game appearances.

Duck King (ダック・キング) is a fighter, DJ and bar owner who grew up in one of South Town's many ghettos. His fighting style uses a combination of various forms of dancing (mainly breakdancing).
Story (in the Real Bout Series)
[
edit
]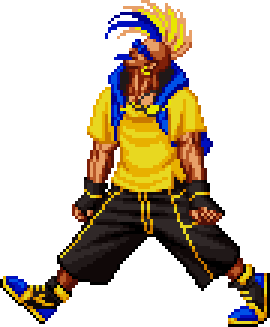 For more information, see Duck King's Fatal Fury profile.
Duck King is one of the fighters that helps "The Lonely Wolves" reach Geese Howard in the "King of Fighters" tournament before he could use the scrolls to make him immortal. After Geese's death, Duck King decides to take a break and celebrate the new era of peace in Southtown in an all-out party bash at the Pao Pao Cafe 2.

Throw

Rolling Neck
Thrust
(close) or +

Neo-Reverse
Breaker
(close) or or +
Command Move

| | |
| --- | --- |
| Needle Thrust | + |

| | |
| --- | --- |
| Mad Spin Hammer | + |

| | |
| --- | --- |
| Shocking Ball | (opponent down) + |
Special Move

| | |
| --- | --- |
| Dancing Dive | + |

| | |
| --- | --- |
| Neo-Break Storm | + |
Special Move

Terrestrial
Duck Fakeout
(during dash) +

Command Move

| | |
| --- | --- |
| Overhead Axe Handle | + |

| | |
| --- | --- |
| Slide Kick | + |
Special Move

| | |
| --- | --- |
| Head Spin Attack | + |

| | |
| --- | --- |
| Riding Spin Attack | + |

| | |
| --- | --- |
| └►Kick Away | |

| | |
| --- | --- |
| Neo Break Storm | + |

| | |
| --- | --- |
| Cross Head Spin | + |

| | |
| --- | --- |
| Terrestrial Duck Fake Out | + |
Power Move

├►Level 1
Rolling Punisher
++

├►Level 1
Diving Punisher
++

├►Level 2
Dancing Caliber
++

├►Level 3
Break Hurricane
++

| | |
| --- | --- |
| └►Level 4 Beat Rush | + • • • • • • • • • + |

Throw

| | |
| --- | --- |
| Rolling Neck Thrust | (close) or + |
Command Move

| | |
| --- | --- |
| Needle Thrust | + |

| | |
| --- | --- |
| Mad Spin Hammer | + |

| | |
| --- | --- |
| Shocking Ball | (opponent down) + |
Special Move

| | |
| --- | --- |
| Dancing Dive | + |

| | |
| --- | --- |
| └►Reverse Dive | + |

Terrestrial
Duck Fake-Out
(during dash) +

| | |
| --- | --- |
| Cross Head Spin | (on sway line) + |
Super Move

| | |
| --- | --- |
| Crazy BR | (Neo-Break Storm) ++ |

| | |
| --- | --- |
| Break Spiral BR | (close) ++ |
Power Move

| | |
| --- | --- |
| ├►Level 2 Duck Dance | 4X |

| | |
| --- | --- |
| ├►Level 3 Duck Dance | 8X |

| | |
| --- | --- |
| └►Level 4 Duck Dance | 12X |

Diving
Punisher
(Level 1) ++

| | |
| --- | --- |
| Rolling Punisher | (Level 2) ++ |

| | |
| --- | --- |
| Dancing Caliber | (Level 3) ++ |

| | |
| --- | --- |
| Break Hurricane | (Level 3) ++ |

Super Bombing
Machine
(Level 4) +