Jump to navigation
Jump to search
Click here for more information about Mai's other fighting game appearances.

Mai Shiranui (不知火) is the granddaughter of Hanzo Shiranui, master of Ninjitsu and Koppo-ken. Mai learned from her father the secrets of Ninjitsu, and became an expert in stealth and other sneaky tricks. She is deeply in love with Andy Bogard, though their relationship is unclear most of the times.
Story (in the Real Bout Series)
[
edit
]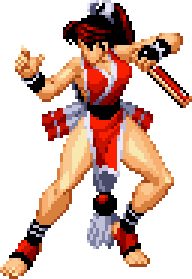 For more information, see Mai's Fatal Fury profile.
Mai is one of the fighters that helps "The Lonely Wolves" reach Geese Howard in the "King of Fighters" tournament before he could use the scrolls to make himself immortal. After Geese's death, Mai goes back to Japan with Andy, training alongside him. Even after ten years in the period of Garou: Mark of the Wolves, she is still in love with him.

Throw

New Windmill
Breaker
(close) or +

Dreamy Cherry
Blossoms
or or +
Command Move

| | |
| --- | --- |
| Dragon Dance | + |

| | |
| --- | --- |
| Backside Kick | + |

| | |
| --- | --- |
| Flying Kick | (when knocked down) |
Special Move

| | |
| --- | --- |
| Butterfly Fan | + |

| | |
| --- | --- |
| Dragon Flame Fandango | + |

| | |
| --- | --- |
| Chaotic Butterfly Fan | + |

| | |
| --- | --- |
| Deadly Ninja Bees | + |
Super Move

Super Deadly
Ninja Bees
++

Throw

| | |
| --- | --- |
| Windmill Breaker | (close) or + |

| | |
| --- | --- |
| Dreamy Cherry Blossoms | (close) or or + |
Command Move

| | |
| --- | --- |
| Dragon Dance | + |

| | |
| --- | --- |
| Flying Kick | (knocked down) |

| | |
| --- | --- |
| Pythagorean Kick | (screen edge) |
Special Move

| | |
| --- | --- |
| Butterfly Fan | + |

| | |
| --- | --- |
| Dragon Flame Fandango | + |

| | |
| --- | --- |
| Riotous Butterfly Fan | + (up to 4x) |
Special Move

| | |
| --- | --- |
| Deadly Ninja Bees | + |

| | |
| --- | --- |
| Sun Flash Flamengo | + |
Super Move

Super Deadly
Ninja Bees
++
Power Move

Moonlight-
Erupting Peony
+

Throw

New Windmill
Breaker
(close) or +

Dreamy Cherry
Blossoms
(close) or +
Command Move

| | |
| --- | --- |
| Dragon Dance | + |

| | |
| --- | --- |
| Flying Kick | |

| | |
| --- | --- |
| Pythagorean Kick | (screen edge) |
Special Move

| | |
| --- | --- |
| Butterfly Fan | + |

| | |
| --- | --- |
| Dragon Flame Fandango | + |

| | |
| --- | --- |
| Night Plover | + |
Special Move

| | |
| --- | --- |
| Deadly Ninja Bees | + |
Super Move

Super Deadly
Ninja Bees
++

Throw

Fuusha
Kuzushi Kai
(close) or +
Command Move

| | |
| --- | --- |
| Sankaku Tobi | (screen edge) |

| | |
| --- | --- |
| Hanegeri | (knocked down) |

| | |
| --- | --- |
| Ryuu no Mai | + |
Super Move

Chou Hissatsu
Shinobi Bachi
+