From StrategyWiki, the video game walkthrough and strategy guide wiki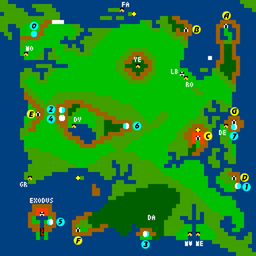 The Dungeon of Fire is located straight South of Britain, and it is surrounded by a circle of mountains and lava pits. Overall, it's probably the most difficult dungeon, with a high number of traps and a low number of chests. It conceals both the Mark of Force and the Mark of Fire, that can be acquired in easier dungeons.
The Dungeon of Fire is the only one that kept its name in the NES version.
Legend:
G = Gremlin (steals food)
T = Trap
W = Strange wind (blows out torches)
Floor
Map
Notes
Floor 1
Sign 1: "Beware, the Fires of Hell!"

C = Cure poison fountain
P = Poison fountain
Floor 2
Sign 2: "Trapped door!"

C = Cure poison fountain
H = Healing fountain
D = Damage fountain
Floor 3
Sign 3: "Twisty Maze!"

Floor 4
Sign 4: "Windy Walk!"

Floor 5
Sign 5: "Gremlin City!"

H = Healing fountain
Floor 6
Sign 6: "Devil's Den!"

Floor 7
Sign 7: "Go back! Pits!"

Floor 8
Sign 8: "Chamber of Fire!"
f = Mark of Force
i = Mark of Fire

C = Cure poison fountain
H = Healing fountain
P = Poison fountain
D = Damage fountain