Jump to navigation
Jump to search
Chatting
[
edit
]

Chat with four different kind of chat options. Private, public, party, or guild chat. You can send whisper messages that acts like private chat by typing another characters name in the left box and sending the message. A button beside this box lists characters who you previously messaged. The right box is where you type your message.
There are two buttons located on the far right of the chat window. The left button lets you choose between public, party or guild chat. The right button resizes the chat window.
Make a Room
[
edit
]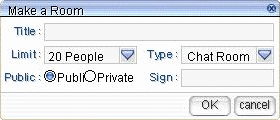 Enables the character to make a chatroom. This is only available after you reach Novice Lv 4.
Click 'comm' in the Basic Info window.
Keyboard shortcut:
+