Marvel Ultimate Alliance 2/Green Goblin
From StrategyWiki, the video game walkthrough and strategy guide wiki
Attributes
Level
Strike
Team
work
Body
Focus
2
6
3
7
15
30
28
39
33
50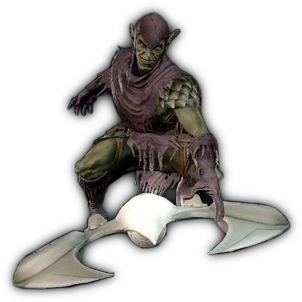 Available: After you defeat him in Black Panther's palace in Act III.
Flying?: Yes, continuous
Heroic Deeds
Defeat 5 foes with a single non-Fusion attack (Boost)
Lead the Thunderbolts for an entire map (Boost)
Defeat 50 foes (Costume)
Gobby on his glider positively owns groups of regular mobs and lesser bosses. When flying on his glider (double Jump – you do not have to hold down the Jump button), you can fire a machine gun (


) or a rocket (


). The machine gun mows through riff-raff like a hot knife through butter. Don't get too excited. Using the glider's weapons costs Stamina and while flying, Gobby can't regain Stamina; so, either you have to load up on Stamina-enhancing Boosts or ground the Goblin once in a while. And, on foot, Green Goblin is no good.
Still, once you have, say Reserves IV and Draining III, Goblin can fire his machine gun constantly for a long, long time. As long as you can keep him on it (i.e. avoid getting shot), you can slice-and-dice mobs very easily – even at Legendary Difficulty. On foot, Pumpkin Bombs and Napalm Strike will be your primary weapons; so, build them up.
[edit]
Powers
[edit]
Pumpkin Bombs
Base Dmg (2 hits): 21-22 Impact
Max Dmg (2 hits):
Cost: 18 Stamina
A volley of explosives. Rapidly tap to extend.
Enhancements
4 bombs (rank 4)
6 bombs (rank 7)
Overcomes impact resistance (Rank 10)
[edit]
Gas Attack
Unleashes a cloud of hallucinogenic gas.
[edit]
Homing Swarm
Hurls flying darts at enemies, causing poison damage.
[edit]
Napalm Strike
Goblin's glider bathes his foes in flame.
[edit]
Abilities
[edit]
Glider Upgrade
Adds damage to glider attacks.
[edit]
Sadistic Glee
Adds hit points per KO.
[edit]
Manic Madman
Requires Pro-Reg.
Adds focus.
[edit]
Gadget Mastery
Requires Pro-Reg.
Adds % Dmg for all attacks
[edit]
Goblin Formula
Requires Anti-Reg.
[edit]
Hard to Kill
Requires Anti-Reg.