Jump to navigation
Jump to search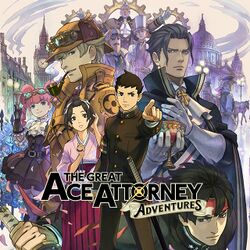 The Great Ace Attorney: Adventures (大逆転裁判 -成歩堂龍ノ介の冒險-, Dai Gyakuten Saiban: Naruhodou Ryuunosuke no Bouken?) is an adventure game in the Ace Attorney series, developed and published by Capcom. It was directed by Shu Takumi and produced by Shintaro Kojima. The game was released for the Nintendo 3DS in Japan in July 2015, with Android and iOS versions following in August 2017. A sequel, The Great Ace Attorney 2: Resolve, was released in Japan in 2017. Both games were released worldwide in July 2021 via The Great Ace Attorney Chronicles, a compilation for Nintendo Switch, PlayStation 4, and Microsoft Windows.
The gameplay involves the same structure as previous entries in the series, in which the player must investigate to obtain evidence and battle in the courtroom by pointing out contradictions in witness testimonies. Previously featured in Phoenix Wright: Ace Attorney - Dual Destinies and Professor Layton vs. Phoenix Wright: Ace Attorney, the game features 3D character models and environments, and allows for cross-examination of multiple witnesses at a time in the courtroom, respectively. New to the series are the jury system, in which the player must work to sway the opinions of jurors in order to avoid a guilty verdict by pointing out contradictions in their statements and pitting them against each other, and Herlock Sholmes' "Dance of Deduction," in which the player must correct the errors in Sholmes' assumptions in order to reveal the truth.
Taking place near the end of the 19th century and the dawn of the 20th century (known in Japan as the Meiji Period, in Britain as the Victorian era), The Great Ace Attorney focuses on Ryunosuke Naruhodo, an English student at Imperial Yumei University and an ancestor of primary Ace Attorney series protagonist Phoenix Wright. He is described as a character with a strong sense of justice, but who easily ends up in danger. Joining Ryunosuke is Kazuma Asogi, his friend from university who studies law. The concept of defense lawyers was merely "years old" in the judicial system at the time in Japan, so Asogi is qualified to stand in court already, and aims to transform the legal system via study in Great Britain. Ryunosuke and Asogi are aided by Susato Mikotoba, a judicial assistant. She is described as being an "ideal Japanese woman", and is also a progressive dreamer.
Table of Contents