Jump to navigation
Jump to search
This is the first game in the Disgaea series. For other games in the series see the Disgaea category.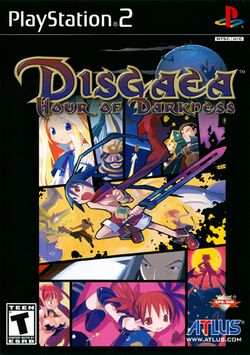 Disgaea: Hour of Darkness (魔界戦記 ディスガイア ,Makai Senki Disugaia, lit. "Battle History in the Evil World: Disgaea") is a strategy role-playing game developed by Nippon Ichi Software and published by Nippon Ichi Software in Japan, Atlus USA in North America, and Koei in Europe for the PlayStation 2. It was first released in Japan on January 30, 2003, and was later released in North America on August 27, 2003, and in Europe on May 28, 2004. An enhanced remake of the game was released for the PlayStation 4 and Nintendo Switch under the title Disgaea 1 Complete.
Etna awakens Laharl from a nap and informs him that he has been sleeping for two years, and that his father, the Netherworld Overlord King Krichevskoy has died. It seems that the remaining demons of the Netherworld have decided that succession should be determined by battle rather than bloodline, and have begun a war for the throne. Laharl is determined to claim his birthright and put down any challengers to his father's title.
Table of Contents