Jump to navigation
Jump to search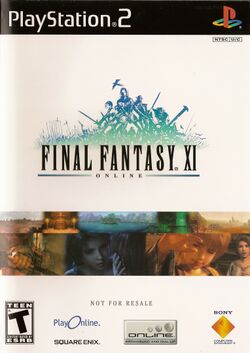 Neoseeker Related Pages
Links
Independent wikis with more information:
Final Fantasy XI is a MMORPG for Windows and Sony PlayStation 2. It has since been released on the Xbox 360. It is the first online Final Fantasy, though other games have had online and multiplayer content, and remains the only MMORPG that allows both console and PC players to play on the same servers.
Currently, there are 3 expansion packs available, with another in development. "Rise of the Zilart" adds many new areas and job classes to the original game, as well as 17 new story-based missions. Zilart was sold as an expansion in Japan, but was released with the game in the United States. The second expansion is "Chains of Promathia," which did not add any new jobs, but included a large new storyline and new areas. A third expansion pack has been released, "Treasures of Aht Urhgan". This expansion added several new areas for exploration, new monster types, an instanced event such as Besieged, two types of missions, and three new character jobs (Blue Mage, Corsair and Puppetmaster). Currently in development is the expansion "Wings of the Goddess", and focuses in-depth on the Crystal War. Four sets of mini-expansions were also released and include Abbysa(an alternate universe), Shantoto(focusing on the famous NPC), one that deals with Moogles and "A Crystline Prophecy" which deals with some foreshadowing doom.
Table of Contents
External links
[
edit
]
FFXI Somepage: Another good informational resource for FFXI
Allakhazam: A site that is dedicated to Final Fantasy XI