Jump to navigation
Jump to search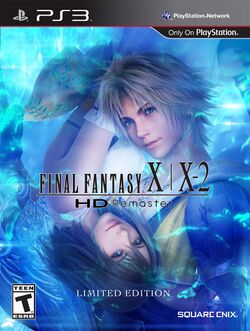 Square Enix announced a remake of Final Fantasy X for the PlayStation 3 and PlayStation Vita at Tokyo Game Show 2011 to celebrate the game's 10th anniversary. On March 18th, 2014 Square Enix released their remastered remake of Final Fantasy X along with a remaster of its sequel and bonus content entitled Final Fantasy X/X-2 HD Remaster. It is currently available as a one disk set or download for the PlayStation 3. A FFX game cartridge and FFX-2 download is available for the PlayStation Vita. In May 2015, the remastered version was released on the PlayStation 4.
Artwork
[
edit
]
The remaster edition's North American PS Vita advertisement.

The remaster edition's Japanese PS Vita box.