Jump to navigation
Jump to search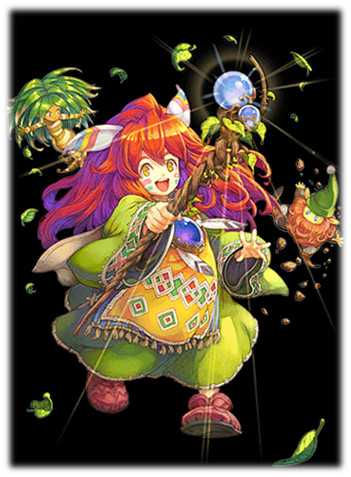 Popoi is a playable character from Secret of Mana. A Sprite being from the world of Secret of Mana, Popoi is mischievous, boastful, but caring. His age is unknown, but he is 3 ft. 1 in. tall and weighs 71 lbs. Popoi's default weapon is the boomerang. His specialty in battle is attack magic, allowing him to deliver devastating amounts of damage from a safe distance. This is especially important because he is the exact opposite of Randi in terms of parameters: his attack, defense and HP are the lowest of the team and he learns special attacks with weapons very slowly.
Randi first meets Popoi at the Dwarf Village where he makes a living by scamming people at the Elder's freak show. Due to a massive flood in the Upper Land that washed him away into Gaia's Navel, Popoi has lost his memory and doesn't remember anything about his past. At the Dwarf Elder's suggestion, he joins Randi in hopes of recovering his memory. Eventually he reunites with his grandfather in the Wind Temple but decides to continue aiding Randi in his quest. Popoi is the most mischievous member of the group and often plays the role of comic relief. As an orphan, he understands how Randi feels growing up without parents.
In the Japanese game, as a Sprite, Popoi's gender is never truly specified. In the U.S. translation, Popoi is identified as a male while on the Republic's sand ship that protects the Fire Palace from the empire. A guard says "He ate up ALL the ship's food!". Another says "'Zat your friend? Show him outta here!" This was most likely due to the time constraints of the game's translation as Popoi largely uses non-gender specific pronouns in the Japanese version that do not exist in the English language, and thus his true gender is never revealed.
Undine
Gnome
Name
MP
Description
Name
MP
Description
Freeze
2
Causes a freezing ice storm damaging enemy.
Earth Slide
3
Causes a rock slide that damages the enemy.
Acid Storm
3
Damages and lowers enemies defense.
Gem Missile
2
Rains jagged diamonds on enemies, damaging them.
Energy Absorb
2
Steals enemies HP.
Speed Down
1
Lowers enemies evade % and slows attack.
Sylphid
Salamando
Name
MP
Description
Name
MP
Description
Air Blast
2
Blast of air damages the enemy.
Fireball
2
Sends fireballs at enemy causing damage.
Thunderbolt
4
Lightning strikes the enemy, damaging them.
Exploder
4
Enemy explodes causing damage.
Silence
2
Confuses the enemy.
Lava Wave
3
Magma engulfs and damages enemy.
Luna
Dryad
Name
MP
Description
Name
MP
Description
Change Form
5
Transforms enemy into a weaker monster.
Sleep Flower
2
Puts the enemy to sleep.
Magic Absorb
1
Steals enemies MP.
Burst
4
Damages enemy.
Lunar Magic
8
Makes you and enemy do curious things.
Mana Magic
1
It's a secret.
Shade
Name
MP
Description
Evil Gate
8
Wave of darkness hits the enemy, instantly killing them.
Dark Force
2
Enemy's energy explodes, damaging them.
Dispel Magic
4
Sets enemy's gauge to 0 and halts magic.
Experience levels
[
edit
]
| Level | XP | HP | MP | Strength | Agility | Constitution | Intelligence | Wisdom | Hit | Defense | Evade | Magic Defense |
| --- | --- | --- | --- | --- | --- | --- | --- | --- | --- | --- | --- | --- |
| 01 | 0 | 40 | 8 | 7 | 12 | 10 | 15 | 5 | 78 | 10 | 3 | 5 |
| 02 | 16 | 47 | 8 | 8 | 12 | 11 | 16 | 6 | 78 | 11 | 3 | 6 |
| 03 | 47 | 54 | 8 | 8 | 13 | 11 | 17 | 6 | 78 | 11 | 3 | 6 |
| 04 | 105 | 62 | 8 | 9 | 13 | 12 | 17 | 7 | 78 | 12 | 3 | 7 |
| 05 | 204 | 69 | 9 | 9 | 14 | 12 | 18 | 7 | 78 | 12 | 3 | 7 |
| 06 | 363 | 77 | 9 | 10 | 14 | 12 | 19 | 8 | 78 | 12 | 3 | 8 |
| 07 | 602 | 84 | 9 | 10 | 15 | 13 | 20 | 8 | 78 | 13 | 3 | 8 |
| 08 | 945 | 92 | 10 | 10 | 15 | 13 | 21 | 9 | 78 | 13 | 3 | 9 |
| 09 | 1418 | 99 | 10 | 11 | 16 | 14 | 22 | 9 | 79 | 14 | 4 | 9 |
| 10 | 2049 | 107 | 11 | 11 | 17 | 14 | 22 | 10 | 79 | 14 | 4 | 10 |
| 11 | 2870 | 114 | 11 | 12 | 17 | 14 | 23 | 10 | 79 | 14 | 4 | 10 |
| 12 | 3914 | 122 | 11 | 12 | 18 | 15 | 24 | 10 | 79 | 15 | 4 | 10 |
| 13 | 5218 | 129 | 12 | 13 | 19 | 15 | 25 | 11 | 79 | 15 | 4 | 11 |
| 14 | 6819 | 137 | 12 | 13 | 19 | 16 | 26 | 11 | 79 | 16 | 4 | 11 |
| 15 | 8759 | 144 | 13 | 14 | 20 | 16 | 27 | 12 | 80 | 16 | 5 | 12 |
| 16 | 11080 | 152 | 13 | 14 | 21 | 16 | 28 | 12 | 80 | 16 | 5 | 12 |
| 17 | 13827 | 159 | 14 | 14 | 21 | 17 | 28 | 13 | 80 | 17 | 5 | 13 |
| 18 | 17049 | 167 | 14 | 15 | 22 | 17 | 29 | 13 | 80 | 17 | 5 | 13 |
| 19 | 20794 | 175 | 15 | 15 | 22 | 18 | 30 | 14 | 80 | 18 | 5 | 14 |
| 20 | 25115 | 182 | 16 | 16 | 23 | 18 | 31 | 14 | 80 | 18 | 5 | 14 |
| 21 | 30065 | 190 | 16 | 16 | 24 | 18 | 32 | 15 | 81 | 18 | 6 | 15 |
| 22 | 35701 | 197 | 17 | 17 | 24 | 19 | 33 | 15 | 81 | 19 | 6 | 15 |
| 23 | 42081 | 205 | 17 | 17 | 25 | 19 | 34 | 15 | 81 | 19 | 6 | 15 |
| 24 | 49265 | 212 | 18 | 17 | 26 | 20 | 34 | 16 | 81 | 20 | 6 | 16 |
| 25 | 57316 | 220 | 19 | 18 | 26 | 20 | 35 | 16 | 81 | 20 | 6 | 16 |
| 26 | 66298 | 228 | 19 | 18 | 27 | 21 | 36 | 17 | 81 | 21 | 6 | 17 |
| 27 | 76278 | 235 | 20 | 19 | 28 | 21 | 37 | 17 | 82 | 21 | 7 | 17 |
| 28 | 87324 | 243 | 21 | 19 | 28 | 21 | 38 | 18 | 82 | 21 | 7 | 18 |
| 29 | 99507 | 251 | 22 | 20 | 29 | 22 | 39 | 18 | 82 | 22 | 7 | 18 |
| 30 | 112899 | 258 | 23 | 20 | 30 | 22 | 39 | 19 | 82 | 22 | 7 | 19 |
| 31 | 127575 | 266 | 23 | 20 | 30 | 23 | 40 | 19 | 82 | 23 | 7 | 19 |
| 32 | 143611 | 273 | 24 | 21 | 31 | 23 | 41 | 20 | 82 | 23 | 7 | 20 |
| 33 | 161086 | 281 | 25 | 21 | 32 | 23 | 42 | 20 | 83 | 23 | 8 | 20 |
| 34 | 180080 | 289 | 26 | 22 | 32 | 24 | 43 | 20 | 83 | 24 | 8 | 20 |
| 35 | 200675 | 297 | 27 | 22 | 33 | 24 | 44 | 21 | 83 | 24 | 8 | 21 |
| 36 | 222956 | 304 | 28 | 23 | 34 | 25 | 45 | 21 | 83 | 25 | 8 | 21 |
| 37 | 247009 | 312 | 29 | 23 | 34 | 25 | 45 | 22 | 83 | 25 | 8 | 22 |
| 38 | 272921 | 320 | 30 | 24 | 35 | 25 | 46 | 22 | 83 | 25 | 8 | 22 |
| 39 | 300783 | 327 | 32 | 24 | 36 | 26 | 47 | 23 | 84 | 26 | 9 | 23 |
| 40 | 330686 | 335 | 33 | 24 | 36 | 26 | 48 | 23 | 84 | 26 | 9 | 23 |
| 41 | 362724 | 343 | 34 | 25 | 37 | 27 | 49 | 24 | 84 | 27 | 9 | 24 |
| 42 | 396992 | 350 | 35 | 25 | 38 | 27 | 50 | 24 | 84 | 27 | 9 | 24 |
| 43 | 433588 | 358 | 37 | 26 | 38 | 27 | 50 | 25 | 84 | 27 | 9 | 25 |
| 44 | 472611 | 366 | 38 | 26 | 39 | 28 | 51 | 25 | 84 | 28 | 9 | 25 |
| 45 | 514162 | 374 | 39 | 27 | 40 | 28 | 52 | 25 | 85 | 28 | 10 | 25 |
| 46 | 558343 | 381 | 41 | 27 | 40 | 29 | 53 | 26 | 85 | 29 | 10 | 26 |
| 47 | 605260 | 389 | 42 | 27 | 41 | 29 | 54 | 26 | 85 | 29 | 10 | 26 |
| 48 | 655018 | 397 | 44 | 28 | 42 | 29 | 55 | 27 | 85 | 29 | 10 | 27 |
| 49 | 707726 | 405 | 46 | 28 | 42 | 30 | 56 | 27 | 85 | 30 | 10 | 27 |
| 50 | 763494 | 412 | 47 | 29 | 43 | 30 | 56 | 28 | 85 | 30 | 10 | 28 |
| 51 | 822433 | 420 | 49 | 29 | 43 | 31 | 57 | 28 | 85 | 31 | 10 | 28 |
| 52 | 884658 | 428 | 51 | 30 | 44 | 31 | 58 | 29 | 86 | 31 | 11 | 29 |
| 53 | 950283 | 436 | 53 | 30 | 45 | 31 | 59 | 29 | 86 | 31 | 11 | 29 |
| 54 | 1019425 | 444 | 55 | 30 | 45 | 32 | 60 | 30 | 86 | 32 | 11 | 30 |
| 55 | 1092204 | 452 | 57 | 31 | 46 | 32 | 61 | 30 | 86 | 32 | 11 | 30 |
| 56 | 1168739 | 459 | 59 | 31 | 47 | 33 | 62 | 30 | 86 | 33 | 11 | 30 |
| 57 | 1249153 | 467 | 61 | 32 | 47 | 33 | 62 | 31 | 86 | 33 | 11 | 31 |
| 58 | 1333570 | 475 | 64 | 32 | 48 | 33 | 63 | 31 | 87 | 33 | 12 | 31 |
| 59 | 1422116 | 483 | 66 | 33 | 49 | 34 | 64 | 32 | 87 | 34 | 12 | 32 |
| 60 | 1514918 | 491 | 68 | 33 | 49 | 34 | 65 | 32 | 87 | 34 | 12 | 32 |
| 61 | 1612106 | 499 | 71 | 33 | 50 | 35 | 66 | 33 | 87 | 35 | 12 | 33 |
| 62 | 1713810 | 506 | 74 | 34 | 51 | 35 | 67 | 33 | 87 | 35 | 12 | 33 |
| 63 | 1820163 | 514 | 76 | 34 | 51 | 35 | 67 | 34 | 87 | 35 | 12 | 34 |
| 64 | 1931299 | 522 | 79 | 35 | 52 | 36 | 68 | 34 | 88 | 36 | 13 | 34 |
| 65 | 2047354 | 530 | 82 | 35 | 53 | 36 | 69 | 35 | 88 | 36 | 13 | 35 |
| 66 | 2168465 | 538 | 85 | 36 | 53 | 37 | 70 | 35 | 88 | 37 | 13 | 35 |
| 67 | 2294772 | 546 | 88 | 36 | 54 | 37 | 71 | 35 | 88 | 37 | 13 | 35 |
| 68 | 2426416 | 554 | 92 | 37 | 55 | 37 | 72 | 36 | 88 | 37 | 13 | 36 |
| 69 | 2563540 | 562 | 95 | 37 | 55 | 38 | 73 | 36 | 88 | 38 | 13 | 36 |
| 70 | 2706287 | 570 | 99 | 37 | 56 | 38 | 73 | 37 | 89 | 38 | 14 | 37 |
| 71 | 2854804 | 578 | 99 | 38 | 57 | 39 | 74 | 37 | 89 | 39 | 14 | 37 |
| 72 | 3009239 | 586 | 99 | 38 | 57 | 39 | 75 | 38 | 89 | 39 | 14 | 38 |
| 73 | 3169740 | 594 | 99 | 39 | 58 | 39 | 76 | 38 | 89 | 39 | 14 | 38 |
| 74 | 3336459 | 601 | 99 | 39 | 59 | 40 | 77 | 39 | 89 | 40 | 14 | 39 |
| 75 | 3509548 | 609 | 99 | 40 | 59 | 40 | 78 | 39 | 89 | 40 | 14 | 39 |
| 76 | 3689162 | 617 | 99 | 40 | 60 | 41 | 78 | 40 | 90 | 41 | 15 | 40 |
| 77 | 3875456 | 625 | 99 | 40 | 61 | 41 | 79 | 40 | 90 | 41 | 15 | 40 |
| 78 | 4068587 | 633 | 99 | 41 | 61 | 42 | 80 | 40 | 90 | 42 | 15 | 40 |
| 79 | 4268715 | 641 | 99 | 41 | 62 | 42 | 81 | 41 | 90 | 42 | 15 | 41 |
| 80 | 4476000 | 649 | 99 | 42 | 63 | 42 | 82 | 41 | 90 | 42 | 15 | 41 |
| 81 | 4690605 | 657 | 99 | 42 | 63 | 43 | 83 | 42 | 90 | 43 | 15 | 42 |
| 82 | 4912693 | 665 | 99 | 43 | 64 | 43 | 84 | 42 | 91 | 43 | 16 | 42 |
| 83 | 5142430 | 673 | 99 | 43 | 64 | 44 | 84 | 43 | 91 | 44 | 16 | 43 |
| 84 | 5379983 | 681 | 99 | 43 | 65 | 44 | 85 | 43 | 91 | 44 | 16 | 43 |
| 85 | 5625521 | 689 | 99 | 44 | 66 | 44 | 86 | 44 | 91 | 44 | 16 | 44 |
| 86 | 5879214 | 697 | 99 | 44 | 66 | 45 | 87 | 44 | 91 | 45 | 16 | 44 |
| 87 | 6141234 | 705 | 99 | 45 | 67 | 45 | 88 | 45 | 91 | 45 | 16 | 45 |
| 88 | 6411754 | 713 | 99 | 45 | 68 | 46 | 89 | 45 | 92 | 46 | 17 | 45 |
| 89 | 6690950 | 721 | 99 | 46 | 68 | 46 | 90 | 45 | 92 | 46 | 17 | 45 |
| 90 | 6978998 | 729 | 99 | 46 | 69 | 46 | 90 | 46 | 92 | 46 | 17 | 46 |
| 91 | 7276076 | 737 | 99 | 47 | 70 | 47 | 91 | 46 | 92 | 47 | 17 | 46 |
| 92 | 7582364 | 745 | 99 | 47 | 70 | 47 | 92 | 47 | 92 | 47 | 17 | 47 |
| 93 | 7898043 | 753 | 99 | 47 | 71 | 48 | 93 | 47 | 92 | 48 | 17 | 47 |
| 94 | 8223296 | 761 | 99 | 48 | 72 | 48 | 94 | 48 | 93 | 48 | 18 | 48 |
| 95 | 8558308 | 769 | 99 | 48 | 72 | 48 | 95 | 48 | 93 | 48 | 18 | 48 |
| 96 | 8903264 | 777 | 99 | 49 | 73 | 49 | 96 | 49 | 93 | 49 | 18 | 49 |
| 97 | 9258352 | 785 | 99 | 49 | 74 | 49 | 97 | 49 | 93 | 49 | 18 | 49 |
| 98 | 9623761 | 793 | 99 | 50 | 74 | 50 | 98 | 50 | 93 | 50 | 18 | 50 |
| 99 | 9999682 | 800 | 99 | 50 | 75 | 50 | 99 | 50 | 93 | 50 | 18 | 50 |