Jump to navigation
Jump to search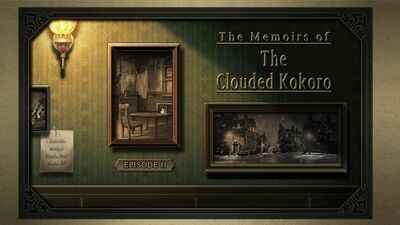 Case Information
[
edit
]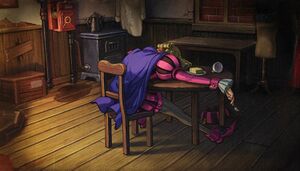 Time of Crime: February 21st, 1:30 AM
Location: Residence of William Shamspeare
Defendant: Soseki Natsume
Victim: William Shamspeare
Cause of injury: Poison
Defense Attorney: Ryunosuke Naruhodo
Prosecution Lawyer: Barok van Zieks
Characters
[
edit
]
Defense Attorney
[
edit
]

Ryunosuke Naruhodo
Coming off the heels of an acquittal for Soseki Natsume, rookie attorney Ryunosuke has chosen to represent Soseki in court yet again after he becomes the suspect in the poisoning of an acquaintance.
Defendant
[
edit
]

Soseki Natsume
An acquaintance of the victim's, Soseki's case isn't helped by the fact that he was the last person seen with Shamspeare. He claims that this is yet another result of his haunted lodgings.

William Shamspeare
An odd man who lives in the same building as Soseki Natsume, and was discovered to have been poisoned the next morning. He claims that this could only have been Soseki's doing.
Prosecution Lawyer
[
edit
]

Barok van Zieks
The prosecutor in this case, Barok van Zieks has appeared against Ryunosuke in every one of his trials since arriving in the country.
Witness
[
edit
]

Adron B. Metermann
Aside from the victim himself, Metermann is the only witness who can attest to the fact that Soseki was alone in the room with Shamspeare, as he was keeping watch outside.
Other Characters
[
edit
]

Susato Mikotoba
The judicial assistant to Ryunosuke, Susato always provides him with advice if he finds himself in a tough spot, and at times even speaks in court on his behalf.

Herlock Sholmes
The great detective who regularly acts as an ally in Ryunosuke's investigations. While his deductions aren't always accurate, they provide the first step for Ryunosuke to figure out the truth himself.

Iris Wilson
The ten-year-old assistant of Herlock Sholmes, Iris is exceptionally intelligent for her age and is always willing to provide Ryunosuke and Susato with a helping hand.

Inspector Tobias Gregson
A detective for Scotland Yard, Gregson usually acts as the primary investigator in the cases that Ryunosuke has found himself involved in so far.

Olive Green
The stabbing victim in Ryunosuke's previous case, for which Soseki was the initial suspect. She is an art student who appears to be perpetually negative.

John Garrideb
The landlord of William Shamspeare and Soseki Natsume, he rented the rooms to the men for a cheap price due to their otherwise unappealing state.

Quinby Altamont
The wife of the man who runs the company that supplies gas to the building at the center of the case. She also acts as a juror in this case.